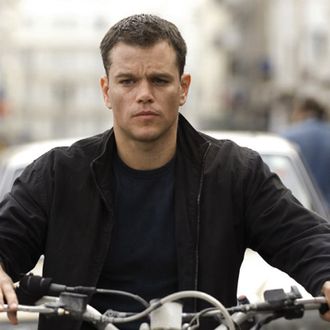 Don't hide from us, Matt Damon. We know.
Okay, so now we know as much about the plot of the new Bourne movie as Matt Damon does about his past when he washes ashore in the first Bourne movie. That is: It's probably something epic, because Matt Damon is ripped. But now, with the help of EW's first look at the film, we're pretty sure that we know exactly what Bourne 5 is about: cyberwarfare.
Exhibit A) Matt Damon says that Bourne 5 takes place in a world similar to our own. "There's been the financial collapse, the great recession, all these issues of cyberwarfare and civil liberties." Hmm …
Exhibit B) Damon previously said that Bourne 5 takes place in a "in a post-Snowden world" and "there are all these kinds of arguments about spying and civil liberties and the nature of democracy." Mr. Damon sure does seem to keep naming the same issues.
Exhibit C) EW reveals that Ex Machina (which we would furiously italicize if our style guide didn't already make us) star Alicia Vikander will play a "cyberspecialist." What is that? Ask Patricia Arquette.
Exhibit D) EW's superficially unrevealing first-look image of Matt Damon in a slim gray quarter zip. This is merely here to distract us with Matt Damon's beautiful sea-green eyes. Let us bathe in them and then move on.
Exhibit E) Damon says that the sequel finds our hero "in [a] dark and tortured place." You know what else is dark and tortured? The internet! J'accuse!
Case closed, though it's possible we don't know what cyberwarfare is. Can someone explain that to us? Matt Damon, maybe? We know you like to explain things.