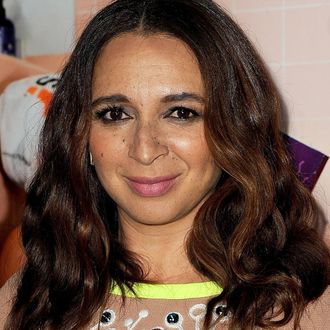 She will not be joining Grindr, from what we can tell.
Photo: Chance Yeh/Getty Images
Maya Rudolph is going to grind her way to greatness on The Grinder. EW reports that the SNL and Groundlings alum has grabbed a guest stint on the show as Jillian, "a therapist whom Stewart (Fred Savage) started seeing when Dean (Rob Lowe), moved back home." Stewart will later recommend that Dean pay a visit to Jillian so that she can "bring him down to earth a little and start seeing things his way." Sounds like she'll be grilling the Grinder, or maybe grounding the Grinder, or — who knows? — grinding the Grinder. Rudolph will make her first appearance on the show, which has grown significantly over teh course of its first season, in February.