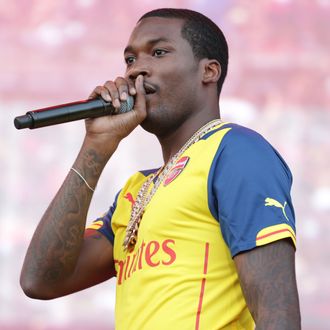 Poor Omeeka.
Photo: Jerritt Simmers/Corbis
Last year, Meek Mill spent five months in prison for violating his probation and now he may be headed back behind bars. TMZ reports that Meek Mill was ordered to appear in a Philadelphia court on Thursday for allegedly violating his probation once again. The terms of his probation prevent him from leaving Philly without first securing a "travel voucher," which TMZ says he's being accused of failing to do when he traveled to Los Angeles last month to attend the American Music Awards with his girlfriend Nicki Minaj. The probation stems from a prior drugs and weapons conviction in 2008, and if he's found to have another violation, he could face additional jail time. Meek took to Instagram on Thursday to ask his fans for prayers and remind his haters to consider what they're really making fun of when they joke about his legal troubles. He notes that it may be his last post on social media if he is sent back to jail:
I'm actually fighting for my life and freedom … Something I've been going thru from a case I caught at 19 years old and been on probation since … I am 28 now … It's funny to see people on the internet laughing and joking about me and my family going thru these things, it's just shows me where the world is at nowadays! But if you are for me prayers up and wish me the best! Thank you to everybody that ever supported and I will continue to b great! If this is my last post know I will continue to remain strong and grow to b a better man and set a example for every minority with a dream that anything is possible! Trials and tribulations and chances makes chances & never lose faith! No matter how things go. PRAYERS UP!!
Update: According to the Philly Inquirer's Aubrey Whelan, a decision has not been made on Meek Mill's probation violation, and his next hearing will be December 17. Nicki Minaj reportedly testified Thursday in court on his behalf, offering her full support to help him meet the demands of his probation: