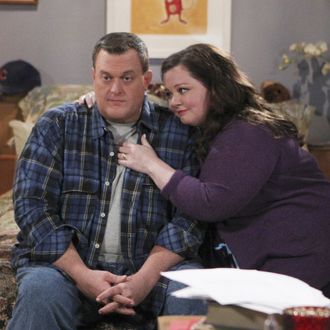 Mike & Molly, the CBS sitcom starring Melissa McCarthy and Billy Gardell, is entering its sixth season, which will be its final season, according to co-star Rhondi Reed. Reed posted on Facebook:
"Before you hear it elsewhere (and some already have) this is the Final and 6th Season of MIKE & MOLLY on CBS. It is also a shortened season (13 episodes) after the announced full renewal of 22 episodes back in March by the network. We are done taping as of January 27th 2016 and I am not sure exactly when/if the episodes will all be aired. The network has it's reasons, and I will not get into a debate, discussion, or campaign to get them to change their minds. Other venues were explored by WB and Bonanza Productions (Chuck Lorre) after CBS announced their intentions, but did not turn up a future for our show. It is a fact and we have known for a few weeks."
The show began airing in 2010, before McCarthy's breakout role in Bridesmaids. Since then, McCarthy has established herself as the most valuable comedian in Hollywood and was the star of last summer's box office, so questions regarding her future on the sitcom have lingered. With a lead role in the upcoming Ghostbusters film and The Boss, as well as a fashion line, the actress has a lot going on. The cancellation of Mike & Molly, if true, then isn't much of a surprise, but it does mean that McCarthy will have more time now to dominate the box office, make us laugh, and design fantastic clothes.
Hey, and if Mike & Molly had six seasons, maybe it'll get a movie some day.