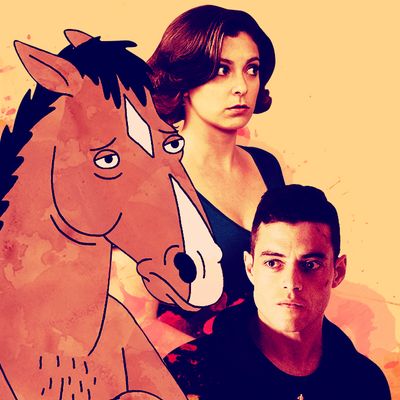 Photo-Illustration: Maya Robinson and Photos by FXX, FOX, Netflix, CW and USA
Mental health on TV has been enjoying a quiet transformation in recent years, and in 2015, the change grew louder. Crazy Ex-Girlfriend is using a musical format to highlight the complexities of anxiety and depression. You're the Worst's Gretchen Cutler got one of the more interesting and accurate representations of depression on TV. BoJack Horseman's bright, silly universe belies its title character's depression and substance abuse. Where depictions on TV were once almost exclusively demeaning and dismissive, many now feel nuanced and compassionate.
A lack of funding for research into how shows shade their characters with mental illness, and how those characters impact viewers, means there's not much hard proof that mental illness in general is less stigmatized. But many mental-health advocates agree they've seen a gradual change, even if, as one researcher put it, they're still waiting for their own so-called "Will & Grace moment": a show with the longevity, popularity, range of characters, and critical acclaim to set the tone for portraying a marginalized community in a positive light.
"I really believe that the depictions have been much less pejorative than they have in the past," says Barb Lurie, who works as a TV script consultant on mental-health-related plotlines of shows including ER, Cold Case, and Desperate Housewives.
Our heartbeats slow down when we watch story lines that address mental illness, signaling that we're paying particularly close attention, according to ongoing Indiana University research. While in the past, this lock on our attention would primarily reinforce stigma by dehumanizing struggling characters — which can discourage people from getting help — empathetic stories were all over television this year. To see how we arrived at some of the more nuanced story lines of 2015, we took a look back.
The closest advocates and researchers can get to pinpointing a definitive turning point is crediting a film: In 2001, Ron Howard's A Beautiful Mind portrayed John Nash (Russell Crowe) as a talented mathematician who just happened to have paranoid schizophrenia. But both before and after the Oscar winner's release, a number of TV shows also played key roles in the shift.
The Sopranos was an early entry, showing its hardened protagonist, Tony (James Gandolfini), working with a therapist to manage his panic attacks and depression from the pilot onward. Lurie points to Law & Order: SVU as another show that challenged stereotypes early on. In November 2000, a season-two episode followed a nonviolent man with schizophrenia accused of raping and murdering his friend. Later on, it's revealed that the detective's assumptions about mentally ill people as a danger to society are wrong — mentally ill people aren't more likely to be violent than the general population — and the initial suspect actually helps authorities track down the real perpetrator.
This didn't indicate a sea change in representation, however. As compassionate examples started cropping up, advocates continued to make sure the more stereotypical depictions didn't go unchecked. In 2000, Peter Berg, who would go on to adapt Friday Night Lights for film and TV, aired Wonderland. Set in a fictional Manhattan psychiatric hospital, the show focused on patients with the most severe cases. A schizophrenic man kills several people in Times Square, and later himself, after getting treatment. A coalition of nine advocacy groups, including the National Alliance on Mental Illness, protested ABC. The network pulled the show after just two episodes.
Two years later, Monk premiered on USA Network, featuring a crime-fighting protagonist with obsessive-compulsive disorder. Bernice Pescosolido, one of the Indiana researchers studying how viewers react to mental-health plotlines, considered the show progress from those suggesting psychiatric patients are violent criminals. But there's a caveat: Implying that people with mental illnesses are superhuman, as Monk did, can be just as damaging as implying they're subhuman. "Unfortunately, it was sort of the image of the special gift, this notion that people with mental illness are endowed with special talents," Pescosolido says. "That is not a good image to portray either, because then the normal person who has mental-health problems says, 'I'm not a genius, so how can I recover?'" Glorifying people with OCD — or schizophrenia or autism or substance abuse — can unintentionally teach viewers that only the mental-health community's most gifted are worthy of love and treatment.
The mental-health community's increased focus on combatting stereotypes dovetails nicely with a TV-industry trend of the last 15 years toward writing more intricate, nuanced stories in general, suggests Dr. Paul Puri, a UCLA-affiliated psychiatrist and TV buff who also serves as a consultant on scripts for Hollywood, Health & Society, an organization that helps writers make sure they have their science and health facts straight. Not only are more TV shows incorporating mental-health-related plotlines, but when they do, they're longer arcs that are often tied to central characters rather than throwaway supporting roles.
When reading scripts, consultants like him make recommendations for ensuring authenticity, but they don't expect 100 percent accuracy in an industry where drama consistently entertains. Perhaps a more telling way of evaluating a show's portrayal of mental health or addiction is by considering if it's well integrated into the rest of the story rather than becoming the show's sole one-dimensional focus.
Experts walk a tight line in raising awareness and correcting inaccuracies without insisting Hollywood forfeit creative control over projects. But, arguably, it's the people with firsthand experience who are doing the most to change the TV landscape. Patrick Krill, an addiction treatment center lawyer and recovering alcoholic, is consulting on the first season of Recovery Road, an upcoming ABC Family series. "Is this authentic, accurate, believable?" Krill asks himself when evaluating story lines. "Things that I would typically take issue with are an overreliance on clichés and stereotypes and portrayals that would tend to reinforce or corroborate a stigma."
Soliciting honest feedback from a recovering alcoholic on a show about addiction can go a long way toward lessening stigma onscreen. Interacting directly with people who have mental-health problems is the strongest indicator of whether you'll stigmatize others, says Pescosolido, as it helps writers attach real faces to a disorder they haven't experienced.
It also explains that some of the most compelling mental-illness story lines in 2015 — which advocates aren't necessarily caught up on yet — are a product of people writing what they know and asking questions about what they don't. Empire's Trai Byers, whose character Andre Lyon has bipolar disorder, told Vulture he consulted with someone who has firsthand experience: his own uncle. "He's open to talking to me about some of the things that he experiences," Byers says. "He's happy that we're using this platform to showcase the fact that there are people who suffer with the disorder, and it's something that we as Americans sweep under the rug. Just to be seen and heard is a great thing."
On FX's You're the Worst, two of the four main characters have diagnosed mental illnesses. Gretchen (Aya Cash) fills in her boyfriend, Jimmy (Chris Geere), on her ongoing struggle with clinical depression in the middle of season two; while Jimmy's roommate, Edgar (Desmin Borges), an Iraq War veteran, has been open about his PTSD since the 2014 pilot. Incorporating depression and PTSD so heavily into a comedy are risks creator Stephen Falk says he knew he was taking. Some of his writers spoke to personal experiences with depression, and for both plotlines, Falk brought in people who could share their backgrounds with his team as a means of ensuring Gretchen and Edgar's stories would be funny, but also true to life.
"I do feel a certain amount of responsibility, but not to the degree that it paralyzes me," Falk says. "There's no way we'd be able to please everyone, and there'd be no way we'd be able to draw any of these illnesses in such a way that everyone who has any opinion on it or everyone who's close to it is feeling like we're doing what they'd want us to do."
Rachel Bloom, who co-created and stars in the CW's critically beloved and cheekily titled Crazy Ex-Girlfriend, informally talked to a couple of professionals — one of whom was her own psychiatrist — about the anxiety and depression that led her character, Rebecca Bunch, to uproot her life over an old love interest. When writing the specifics of, say, which prescription pills Rebecca takes and how she reacts to them, Bloom also goes off of the personal experiences of her writers and her own history of anxiety, depression, and obsessive thoughts. Bloom says she went from feeling shame as a kid over what bothered her to mining it for humor on TV. "The more I talk about it, the less secret and shameful this is," she explains, "and the more people I realize have stuff like this that don't want to share it."
Crazy Ex-Girlfriend, which delights in the juxtaposition of kitschy, laugh-out-loud musical numbers and the true weight of Rebecca's loneliness, is proof ambitious, sensitive commentary on mental illness doesn't have to take itself so seriously. Another is Netflix's animated comedy BoJack Horseman, which is one of the most nuanced, honest depictions of depression on TV. The series didn't explicitly set out to offer any such revelations about humanity. After all, its protagonist is an anthropomorphized horse.
"I wasn't trying to make any statements," BoJack Horseman creator Raphael Bob-Waksberg says. "I just wanted to tell what I felt was an honest story in a very dark place and try to treat that with dignity — there's not too much dignity in the show — to take that seriously and not just use it as a prop, necessarily, but as a large hurdle."
BoJack doesn't immediately scream "depression," and that's the point. Its bright colors and goofy sight-gags take the edge off even its darkest moments. What Bob-Waksberg and others are making isn't good TV about pain and sadness: It's just good TV. "We use how bright and cheerful the show is to go to dark places," Bob-Waksberg says. "It feels more acceptable because it's just a fun, silly cartoon — we can go to some of these real issues, and it doesn't feel as heavy as it would in a live-action show."
The landscape is still far from perfect. Advocates are still protesting work they find stigmatizing, and whether a show treats mental health with enough sensitivity is not always clear-cut. Summer's breakout hit Mr. Robot starred Rami Malek as Elliot Alderson, a brilliant hacker whom we see grapple with hallucinations, loneliness, and a morphine addiction. Elliot sees a therapist throughout the first season, presumably for a dissociative disorder, but if the writers have an official diagnosis for him based on his symptoms, they haven't shared it with viewers. Mr. Robot's aggressive, provocative focus on mental illness sets it apart from other shows, but because Elliot's symptoms so far don't seem grounded in fact, it comes across as more of a plot device, Puri says. A more effective way of dismantling myths would be to make his diagnosis more clear and his symptoms more in line with an actual disorder.
But what's more useful than trying to narrowly classify shows like Mr. Robot as good or bad for reducing stigma is using the gray area as a means of continuing discussion. There's been more debate over what, if any, role the entertainment industry is obligated to play in correcting widespread mental-health stereotypes over the last decade or so than in the 30 years before it, ventures Otto Wahl, a University of Hartford psychology professor who has researched mental-health stigmas for nearly five decades.
Glenn Close, a three-time Emmy winner, speaks openly about how her sister's and nephew's experiences with bipolar disorder and schizoaffective disorder, respectively, have changed how she sees her role as an actress. She's turned down parts in projects she feels portray mentally ill people inaccurately, she said recently at the gala for Bring Change 2 Mind, the nonprofit she founded in 2010 to tackle stigma.
"I think it's easy and small-minded for people in positions of power to further these stereotypes," Close says, referring in particular to the misguided notion that mentally ill people are more violent than the general population. "So, yes, I believe my industry has a responsibility to write roles with compassion and sensitivity surrounding mental illness."
Shows like Mr. Robot raise questions about whether writers, as Close suggests, should feel the need to actively correct widespread misconceptions when they turn to mental-health plotlines, or if it's okay to use unspecified conditions purely as a means of adding texture to a story. There's a certain friction that still exists — and will probably always exist — between entertainment and education, even as the overlap in storytelling that satisfies both objectives seems to be growing. But consultants like Puri are optimistic. "As long as there's a gluttony of TV and we're trying to really get at good characters and deep characters," he says, "this will continue to evolve."
Additional reporting by Jamie Sharpe