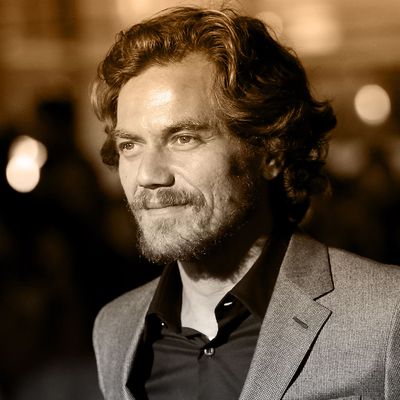 Photo: Michael Tran/Getty Images
Love or loathe awards season, Hollywood's seemingly never-ending self-love-fest has the power to force small, deserving films — like Ramin Bahrani's foreclosure drama 99 Homes — into the conversation. It can also shine a light on performances that otherwise might not creep into the Academy's crowded consciousness. Actor Michael Shannon has, of late, been the beneficiary of such exposure: For his role as morally ambiguous real-estate mogul Rick Carver in 99 Homes, Shannon has earned, among others, Indie Spirit, SAG, Gotham, and Golden Globe nominations — accolades that the actor, 41, says "surprise" him. ("There are a lot out movies there," he states matter-of-factly, as he does every time he speaks.) Vulture caught up with the Kentucky native and Steppenwolf Theater veteran, who revealed the toughest part of playing a guy who kicks people out of their homes, what it's like to tackle Elvis and General Zod in the same year, and his favorite ways of tuning out all the chaos.
What was the biggest challenge in playing a shady real-estate broker?
Well, I wasn't familiar at all with the real-estate business. It's not something I'm particularly interested in either. So I went down and met with a broker in Florida whom Ramin had been talking to for a long time while doing research for the film. I spent a week with him at his office, going through the script together. He explained all the different terminology and then would tell me stories over dinner about things that had happened to him, and the effect that all of it had had on him personally. He didn't enjoy kicking people out of their homes, but there's a huge misconception about that. In the film, it's not Rick who's taking the home away from someone. By the time Rick is at your door, it's not your home anymore. It's not his fault or his decision. He's carrying out orders from the larger system. Someone has to do it.
You have nearly a dozen projects slated for 2016, including Elvis & Nixon opposite Kevin Spacey, and Batman v. Superman: Dawn of Justice. Between playing Elvis Presley and General Zod, whom did you relate to more?
Interesting question. Zod is an alien, and Elvis is one of the important people who ever lived. I could understand Zod's wanting to protect his civilization. That made a lot of sense to me. I could also understand Elvis's deep spiritual longing. A lot of people don't know about that. He was very concerned with his own spiritually and constantly wondered why he was who he was amidst all the sadness. I also think I share with Elvis a deep love of music. He didn't write his own songs, but he was like a human jukebox.
Elvis struggled with, among many things, fame. How do you cope with being increasingly more recognizable? In what ways do fans approach you?
It's usually a pretty quick thing. Somebody sees you and they ask, "Are you so and so?" and I say, "Yeah, I am." That's about the end of it. I approach it with humility and directness. "Yes, you have correctly identified me. Let's move on with our lives." I'm usually recognized as Nelson Van Alden on Boardwalk Empire. TV is a whole other ball game. It's a ritual. Seeing a movie is in one ear and out the other. But people spend years of their lives watching TV. It lives on and on.
Do actors ever make you feel starstruck?
I was very thrilled to meet Christopher Walken. We worked together on a film called Kangaroo Jack. It wasn't a masterpiece, but I got to work with him! And when I was nominated for an Oscar for Revolutionary Road, he introduced the nominees and gave a speech about what a nice actor he thought I was. I could have died and gone to heaven right there. I admire him a great deal. He's insanely talented and very unique. He's a down-to-earth, blue-collar-type guy.
How do you know when a script is right for you?
The first question I ask myself is, "Is this is a load of silly crap?" I don't want to do that. Usually, the story has some significance beyond being just a piece of entertainment. It has to be meaningful to actual humans in the world, and not something that's incredibly manipulative or formulaic. It also needs to be surprising. It's so hard with screenplays because after the first five pages, you usually know everything that's going to happen. It's rare to be surprised. Something has to have momentum; I want to not want to put it down. That's what it was like with 99 Homes, which is pretty miraculous, considering it's about the foreclosure crisis. Ramin wrote something so powerful; it's like a bullet. So sharp and clear. That's the magic of the movie, and the outcome of Ramin's strenuous work in getting to know these people and every aspect of it in a very Faulkner-ian way. There's every point of view represented.
When you look back on the last two decades of your work, what film or role are you most proud of?
If there were only one movie of mine that somebody saw, I'd want it to be Take Shelter. That was a real perfect storm for me — no pun intended. It was a real combination of [director] Jeff Nichols's vision lining up with a lot of things I'd been grappling with personally; a distillation of what's important to me. Definitely that one.
What do you most like to do when you're not acting?
I love to play music, listen to music, see music. It's a big hobby for me. I don't like to travel because I already travel so much for work. Being with my kids is real important. Usually, when I not working, I'm just trying to give them as much attention as I can. I live in Brooklyn, and sometimes I really just like to just sit on my couch and stare out the window.