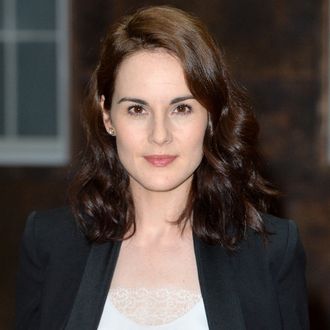 Photo: Anthony Harvey/Getty Images
"Whether in his work or his personal life John was extremely loyal," Downton Abbey star Michelle Dockery told mourners at St. James's Church. Dockery's fiancé, John Dineen, died from a rare form of cancer in Ireland on Sunday. He was diagnosed 15 months ago. At Dineen's funeral, which took place the day after Dockery's 34th birthday and a day before what would have been Dineen's 35th, Dockery sang Oscar Hammerstein's "The Folks Who Live on the Hill," according to The Irish Independent, and said of her fiancé:
John's charm was legendary. He could persuade anyone to do what he wanted in the least pushy way possible. Particularly the women … He had a presence that was electric when he came in to the room. He had a wicked sense of humor. He had a genuine interest in other people. It was clear that when John was in your corner he was there. I was honoured to know John. To love him and be loved by him. He was my friend, my King, my hero, my everything. We celebrate him, we honour him and we will miss him.