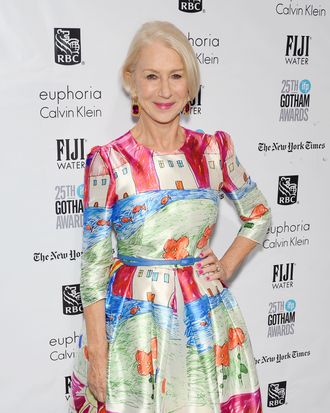 Yes, queen.
Photo: Andrew Toth/Getty Images
Robert De Niro stole a kiss from her. Harvey Keitel was distracted by her when we tried interviewing him. ("Look at what a beautiful dress she's wearing! She's a work of art.") By all accounts, Helen Mirren was the belle of the ball at the 25th annual IFP Gotham Awards, where she received a career tribute award last night. De Niro, the kissing bandit, made it clear that his "appreciation for Helen Mirren's artistry" was also on a physical level when his speech about her digressed into a discussion of her sex appeal. "I didn't grow up wanting to have sex with the queen," he began. "Let's just say, she wasn't my royal MILF. But that was before I saw her played by Helen Mirren … Now, when you hear someone say 'fuck the queen,' they're not necessarily trying to bring down the monarchy."  

Mirren, unfazed at this, took the stage and shared her own "fucking the queen" story, before launching into her planned remarks. The first time she saw The Queen, at the Venice Film Festival in 2006, she recalled, she was a little nervous about the reaction of her husband, director Taylor Hackford. "The first shot is of me, completely in all of the full regalia, with the wig and everything, and I turn and look at the camera," she said. "There was silence in the cinema, and my husband lets out this huge laugh, because he's never seen me dressed as the queen before. So I lean over to him and I say, 'Darling, do you think you'll ever fuck me again?' Between you and me, he has."

Then, with the crowd's attention, Mirren paid tribute to the writers whose words she's "learned and interpreted and spoken," listing her résumé in terms of the playwrights and screenwriters who made it all possible, before getting to what she really wanted to say. "Let us love our writers and their courage, and always stand behind them when they're threatened with silence or any chickenshit political censorship!" she implored. "To that end, I would ask you all tonight to help Ashraf Fayadh," a Palestinian poet who was sentenced to death by beheading in Saudi Arabia on charges of blasphemy and apostasy, in part because his book, Instructions Within, is a series of love poems. He has less than a month to appeal. "This to me is the utter denial of everything that is fine about humanity!" Mirren said. "Support him. It means a huge amount."

Backstage, we caught up with Mirren and asked her to elaborate. "What we have to be is conscious of other parts of the world where there is no freedom of speech," she said. "Where people, incredibly brave journalists, writers, poets on all levels are incarcerated, are tortured. I just feel the written word is one of the most beautiful things that human beings do, so we have to fight for it. It shouldn't be a death sentence."
 
That kind of passionate defense? Sexier than De Niro ever dreamed.