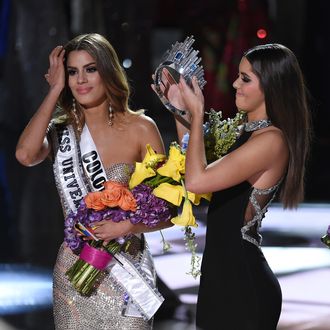 I was Miss Universe for 15 seconds…You'll never guess what happened next.
Photo: Ethan Miller/2015 Getty Images
It seems that, to quote Philippians, Misses Colombia and Philippines have found it in their hearts to embrace "the peace of God, which transcends all understanding," specifically that time when Steve Harvey crowned the wrong Miss Universe. In a long Facebook message posted from the official Miss Universe Instagram handle (a slightly shady choice for a platform, but whatever), Miss Universe Pia Alonzo Wurtzbach (formerly Miss Philippines, briefly runner-up Miss Universe) wrote a heartfelt message to Miss Colombia Ariadna Gutiérrez (who was briefly Miss Universe): "To Ariadna, you are an amazing woman and we are now bonded together forever by a unique experience," Alonzo wrote. "In the last 3 weeks we were together, I saw how strong and beautiful you are inside and out. You represented your country with honor and I know how proud everyone must be of you. Fate has a plan for you, and I'm excited to see what's ahead. And to all the fans who are still fighting about this … Please let's all stop now."
Steve Harvey's mistake might not have cost him a chance to host the pageant again, but it has spurred anger in Miss Colombia's native country, and let many to imagine a divisive rivalry between the two Miss Universe contenders. But history isn't just written by the victor's Instagram captions anymore. In a post on her own account earlier this week, Miss Colombia wrote: "Your destiny is written for you. And my destiny was this. I was able to bring happiness to my country after becoming Miss Universe for only a couple of minutes … Today because of that COLOMBIA and the LATIN COMMUNITY are being talked about in every corner of the world. I also want to congratulate the Philippines for their new Miss Universe. The happiness that you must be feeling must be incredible."
And so, 2015's great Miss Universe mix-up ends not with a whimper, but with an Instagram. Meanwhile, Steve Harvey is off celebrating Valentine's Day.