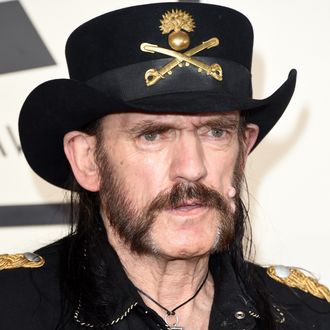 Lemmy.
Photo: Jason Merritt/2015 Getty Images
Lemmy Kilmister, the gruff Motörhead front man and bassist who became a veritable rock icon synonymous with hard-living and loud shredding, died Monday after battling "an extremely aggressive cancer," according to his bandmates. The group confirmed the 70-year-old's death on Facebook, explaining Lemmy learned of his disease on December 26.
He was the only constant member of the titanic rock group, as well as a tireless musician who lived the tour-bus life on his own terms. With his distinctive sandpaper voice and larger-than-life persona, he steered Motörhead to 22 studio albums and a 2005 Grammy with a cover of Metallica's "Whiplash."
"We cannot begin to express our shock and sadness, there aren't words," read the band's statement. "We will say more in the coming days, but for now, please … play Motörhead loud, play Hawkwind loud, play Lemmy's music LOUD." Ozzy Osbourne and radio personality Eddie Trunk, longtime friends of Lemmy's, first spread the news via Twitter, calling Lemmy a true rock warrior and legend.
Lemmy was born as Ian Kilmister (the nickname reportedly came from his habit of asking "lend me a fiver?") in Stoke-on-Trent, England, and grew up as an only child with his mother on a North Wales holiday resort. His ascent to rock stardom began with stints as a guitarist for the Rockin' Vickers, a roadie for Jimi Hendrix, and a bassist for space-rock outfit Hawkwind. He was axed from the last job in '75, after being arrested for drug possession near the Canadian border. Lemmy responded by creating Motörhead (slang for speed freak), the one-time loudest band on earth, which he remained with for nearly four decades. The group's 22nd album, Bad Magic, came out earlier this summer.
Lately, the singer-bassist's health had become the topic of national headlines, as Motörhead was forced to cut short a number of shows because of Lemmy's back problems and instances of altitude sickness. The cancellations mirrored those of recent years, when Lemmy reportedly tussled with Type 2 diabetes, suffered a hematoma, and had a defibrillator inserted in his chest. He celebrated his 70th birthday earlier this month, however, with a star-studded event. Along with his music, the belief that the hard-rocker was indestructible — he purportedly drank a bottle of Jack Daniel's every day since he was 30, until a couple years ago — was part of the legend that was Lemmy.
"If I do die sooner rather than later, I'll be satisfied with what I've done. I've had a good life, I've been around the world, met all kinds of people. I've made people laugh, I've fucked chicks of every colour, shape, religion and persuasion," he said in a 2010 Independent interview. "I've had a whale of a time out of rock'n'roll, and rock'n'roll has had a whale of a time out of me. That'll do."
This story has been updated throughout.