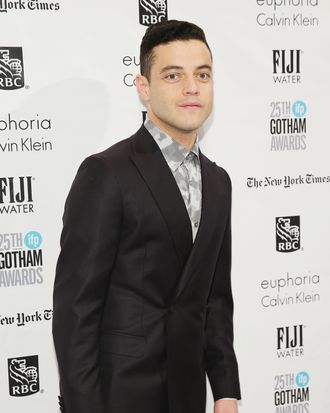 Don't pop an eardrum, Rami!
Photo: Neilson Barnard/Getty Images
Even before the first season of USA's psychological summer smash hit Mr. Robot aired, fans knew that a second season had been green lit. So when Vulture ran into star Rami Malek and creator Sam Esmail at the IFP Gotham Independent Film Awards, we had to get some details on what the grand vision for the second season might be. After all, the first season ended with the suspense cranked up high, with a stinger revealing the uncertain loyalties of BD Wong's character Whiterose. While Esmail was tight-lipped on any details about the forthcoming season, he does essentially say that we'll most likely be seeing more of Whiterose. "[BD Wong] is amazing in the first season," said Esmail. I'd be a fool not to bring him back."
Our summer crush Rami Malek teased us with a little more. "I will say this, it doesn't get any easier for any one of the characters on the show — especially myself," Malek said. "After [Sam] pitched me this season, I called my agents and said, I don't really feel inclined to do anything between now and then. Because it's going to require a lot of energy." Malek, after all, gets so into character that he started bleeding from his ear while shooting the voice-overs. "I want to get it right. I want the show to continue being as accurate and authentic as it has been this past year. And the only way to do that is to give it a hundred percent of my attention, which is about to happen. Is happening." Don't pop an eardrum, Rami!