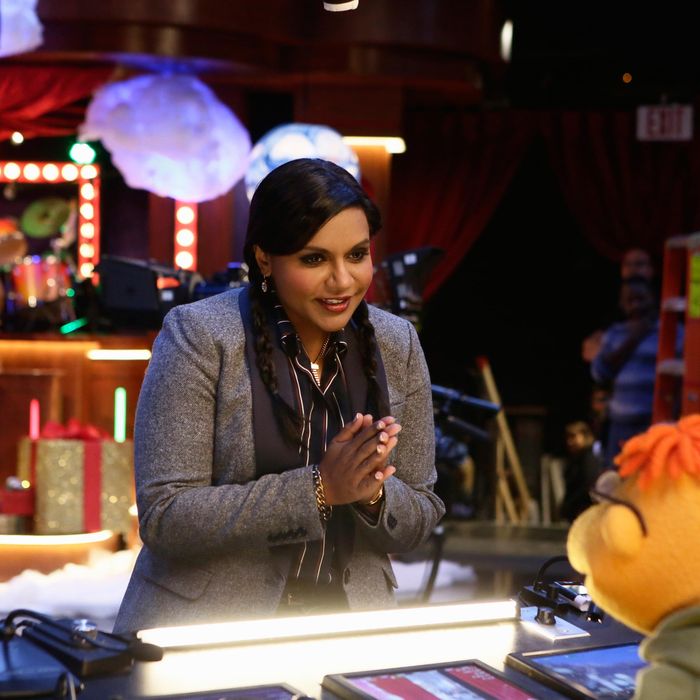 Mindy Kaling and Scooter.
Photo: Nicole Wilder/ABC
At the end of "Single All the Way", Kermit sums up everything I've had to say since the showrunner shake-up: "We're about to have a couple of weeks off, so that's some good news." This episode marked the end of the show's initial ten-episode order, so there's nothing to do now but wait and hope that The Muppets will look brighter next spring.
Among other reasons, I'm excited about this break because I don't have much new insight or criticism to add about The Muppets as it is. The show remains disappointing, and it's bizarre to feel so thoroughly disinterested in the exploits of some of my favorite fictional characters. Thankfully, at least "Single All the Way" is the best possible version of The Muppets thus far.
This episode finally gives Miss Piggy some real moments of honesty, and brings her closer to Kermit again. (After ten episodes, can you believe how few genuine moments we've seen between them?) After Becky breaks up with Fozzie — yes, the same Becky he moved in with just a few episodes ago, and yes, it's still annoying when sitcom relationships move at the speed of plot device — Kermit talks to Miss Piggy about how she dealt with being dumped. What she discovers, though, is that she hasn't dealt with it at all. The realization that she's alone on Christmas sends her into an emotional spiral that can't be healed by cheese, nor designer stuff, nor apparent bestie Uncle Deadly.
Kermit realizes that he and Miss Piggy haven't exactly talked things through since their relationship ended, and the conversation they share to calm her down before the Up Late Christmas special is a super nice moment. Kermit reminds her that she's still got him as a friend, and no matter how lonely she feels, Up Late is making people all around the world feel less alone. This sweet little speech not only helps Miss Piggy go on with the show, it also rekindles their feelings for each other — especially when, as they're singing to drown out Mindy Kaling, Miss Piggy grabs Kermit's hand.
Speaking of Mindy Kaling, kudos to The Muppets for figuring out exactly the right way to use a guest star. Neither overused like Reese Witherspoon, or somewhat bafflingly used like Joseph Gordon Levitt, Mindy Kaling's story line revolves around her inability to sing, which leads to yet another problem for Up Late's disastrous Christmas special. The solution dovetails nicely with the episode's other running themes — the Muppets sing with her because "no one should be alone on Christmas" — and it provides an excuse for the always-welcome sight of a Muppet chorus.
"Single All the Way" also makes excellent use of the second-tier Muppets, who are often subject to the same uneven mismanagement as the show's guest stars.
Scooter had a couple of fun moments: I like how he accidentally discovers an ability to beatbox, and I absolutely love the detail that his mom's boyfriend kept weirdly long nails. That is absolutely a genre of guy and I don't know why we aren't talking about it all the time. Big Mean Carl reading "The Night Before Christmas" is funny, if only because everything Big Mean Carl says is funny. Chip describing his synesthesia to Sam the Eagle as he waits for Janice under the mistletoe is a perfect character moment, and further proof that Chip and Uncle Deadly are tied neck-and-neck for darkhorse Muppets MVP. Janice does end up kissing Sam too, which is a nice little bow on this charmingly wrapped gift of an episode. When the revamped show comes back, I hope it explores their relationship.
One of the nicest surprises, though, is a well-handled story line about the office's Secret Santa, which Yolanda rigs to get everyone's gifts. (She was left out last year and wants to ensure that it doesn't happen again.) When everyone discovers what she did, Gonzo, Pepe, Rizzo, and the rest of the gang don't retaliate — instead, they shower her with gifts and apologize for excluding her the prior year. These aren't the actions of the jaded, detached Muppets we've seen so often this season. These are the Muppets we've known for the past forty-something years. It's a genuinely heartwarming scene.
"Single All the Way" wraps up with the gang hanging out at Rowlf's place, while Echosmith plays. (I didn't know who Echosmith was. Am I old now?) At this exact moment, it occurred to me that we've been Denise-less for several episodes … and I've liked these past few episodes a lot more than the ones in which she figured heavily. (With all due love and respect to the wonderful Riki Lindhome, this applies to Becky too.) If a Kermit/Piggy reunion is in the works, I'd be thrilled. The Muppets seems to finally be acknowledging the dynamic that's worked for decades. And if it worked then, why wouldn't it work now?
When the show returns in February, it could still be plagued by the problems of the past ten episodes. Given the network's heightened scrutiny, it's possible that it could actually be worse. But there is good news. Episodes like "Single All the Way" remind us that the Muppet greatness is still there, buried under all those layers of jaded scruff. Let's hope the new showrunner does a better job finding it.