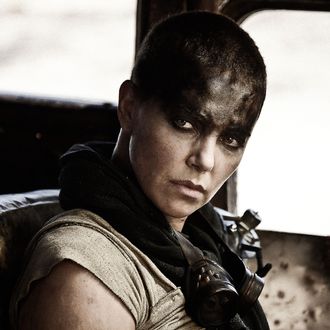 Instead of Furiosa, she's temporarily named Honored-a.
Photo: Jasin Boland/Warner Brothers
In one of the first truly interesting results of the awards season, as it tends to be every year, the National Board of Review has named Mad Max: Fury Road its best film of the year.
The National Board of Review, as the press release describes, is a "select group of film enthusiasts, filmmakers, professionals, academics, and students" that has been "[dedicating] its efforts to the support of domestic and foreign cinema as both art and entertainment" for 106 years. (Presumably not the same film enthusiasts, filmmakers, professionals, academics, and students because, jeez, talk about burying the lede. Who cares about Mad Max! There are immortal film students.)
The point is, many of these awards bodies tend to be mysterious, so don't take this as a sign that Mad Max is all of a sudden guaranteed to be a gate-crasher at the Oscars. Last year the NBR made the genuinely idiosyncratic decision to recognize A Most Violent Year as the best film of 2014, a decision that didn't quite set the dominos falling for J.C. Chandor's mostly under-the-radar '80s crime epic. The year prior they went with Her, which at least snagged an Academy nomination.
Aside from Mad Max, The Martian and The Hateful Eight proved popular with the NBR. And by the time February rolls around, expect this Best Actress win to be buried deep in the back of wherever Brie Larson's planning to keep her trophies.
The full list of winners is below:
Best Film 
Mad Max: Fury Road 
Best Director 
Ridley Scott, The Martian
Best Actor 
Matt Damon, The Martian
Best Actress
Brie Larson, Room
Best Supporting Actor
Sylvester Stallone, Creed
Best Supporting Actress 
Jennifer Jason Leigh, The Hateful Eight
Best Original Screenplay 
Quentin Tarantino, The Hateful Eight
Best Adapted Screenplay
Drew Goddard, The Martian
Best Animated Feature 
Inside Out
Breakthrough Performance 
Abraham Attah, Beasts of No Nation; Jacob Tremblay, Room
Best Directorial Debut 
Jonas Carpignano, Mediterranea 
Best Foreign Language Film 
Son of Saul
Best Documentary
Amy
William K. Everson Film History Award
Cecilia De Mille Presley
Best Ensemble 
The Big Short
Spotlight Award
Sicario for Outstanding Collaborative Vision
NBR Freedom of Expression Award 
Beasts of No Nation and Mustang