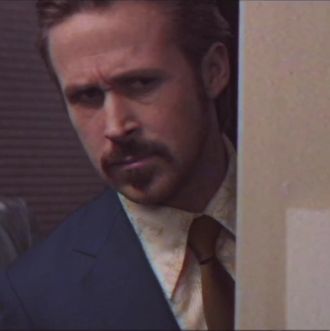 Shane Black (Kiss Kiss Bang Bang, Iron Man 3) is back in his dark-action-comedy wheelhouse with The Nice Guys, which takes Russell Crowe and Ryan Gosling back to the '70s as a pair of incompetent L.A. detectives. The film follows the pair as they search for a missing girl (Margaret Qualley*), but mostly they're here to chew scenery and do slapstick — and guess what, they'll never be out of scenery. "You're the world's worst detective," Gosling's daughter tells him, which isn't true, because by any reasonable standard Inspector Javert is the world's worst detective. Maybe Russell Crowe doesn't want to think about him. Roll the clip above for the movie's official trailer, which includes a bunch of poor choices and a giant visitor. Or, if you're so inclined, watch the new '70s-inspired trailer below. How retro!
The original trailer is available below for your viewing pleasure, too. (As if you needed another reason to watch Gosling and Crowe in action.) The Nice Guys hits theaters May 20.
*Correction: A previous version of this post had erroneously stated that Margaret Qualley was in True Detective.