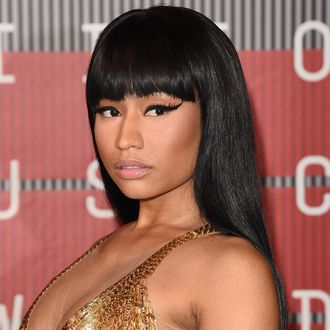 Photo: Jason Merritt/Getty Images
In honor of the first anniversary of The Pinkprint, Nicki Minaj took to social media this week to argue that streaming numbers should be included in album sales. In an Instagram post, the singer celebrated the fact that the album, which hasn't sold over 1 million units under traditional metrics, was "triple platinum worldwide" with sales numbers "3.3 million," though "we have to wait for a March court date to be credited for tracks & streams." Minaj's claims may have shocked a few users on Twitter, but they stem from her larger argument about the way in which current metrics fail to describe the reality of an album's popularity.
After getting some flak, Minaj switched from Instagram to Twitter to argue that The Pinkprint could be triple-platinum if you count TEAs (Track Equivalent Albums, or individual song purchases that count toward an album's total) and SEAs (Streaming Equivalent Albums, streaming numbers that do the same), which are now used to calculate an album's standing in the Billboard 200. As proof, Minaj posted a tweet containing a breakdown of The Prinkprint's sales from her label, Universal, which included SEAs and TEAs and gave the singer a 3.3 million total.
There's some reason for this change, besides the fact that it would give Minaj a shiny plaque. On Instagram, Minaj also argued that sales figures that don't count streaming numbers are unfair to artists who don't specialize in the kind of music — country, mostly — that still sells albums. "The music business doesn't really seem designed to reward our culture with the sales & accolades we deserve, as we don't normally cater to middle America," Minaj wrote, "But I'm so happy that some amazing ppl have been fighting for us."
Minaj's argument reflects the changing dynamics of the streaming industry, though it doesn't guarantee her a plaque just yet — we'll all have to wait for rules to change, maybe after that mysterious "March court date." Still, as Minaj posted in a later tweet, "Universal is happy" with her success. And if the money's good and the label's happy, why not celebrate?