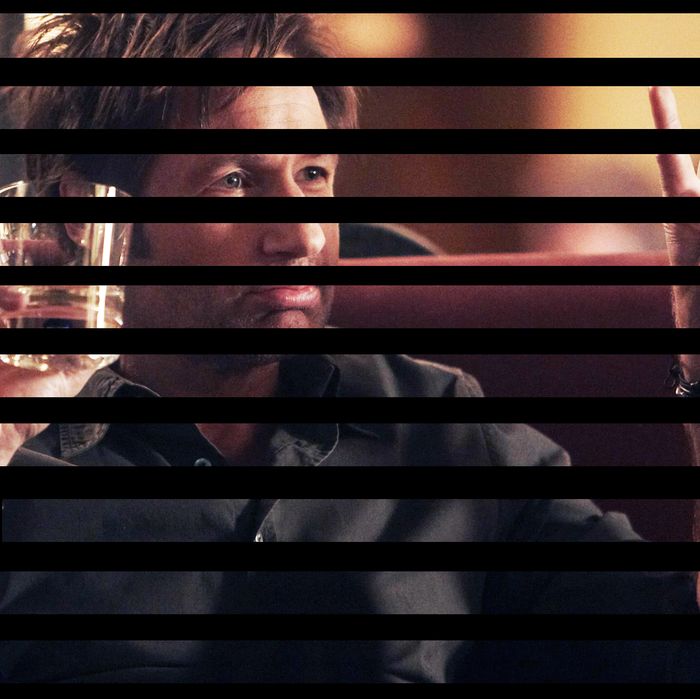 The Ratings Game is a weeklong series exploring what the new world of TV ratings means for your favorite shows.
I'm what the TV business calls a non-writing executive producer on Fresh Off the Boat and The Grinder. What does that mean? I like to compare myself to a restaurant manager: I'm a part of putting these things together from the beginning — from idea to script and then staffing and crewing, I do everything I can on a daily basis to keep these shows running and on the air. Plus, I'm lucky enough to be surrounded by incredibly talented people, like Nahnatchka Khan, Randall Park, Constance Wu, Jarrad Paul and Andy Mogel, Rob Lowe, Fred Savage, and my partner of many years, Jake Kasdan. And, along with all employees of the network-TV business, my fate is determined by the daily arrival of ratings.
People often compare it to getting a report card, and if you work in TV, it's Nielsen giving you your grade. Though there are arguably better and more modern methods of gathering viewer data, for now, Nielsen is often the standard for how our network-TV fates are decided. For many who work in the TV business, the Nielsen household — a family whose TV-viewing habits are monitored by the research company — is like a unicorn. Somewhere in America are these magical homes with the power to determine whether a show — your show, which you give everything to — lives or dies. Okay, that's extreme. Maybe sometimes. But on a weekly basis, while making these shows, it can bum you out or pick you up. Either way, it turns out that the reality of a Nielsen household is far from magical.
I know this because I was a Nielsen household.
In 2006, Nielsen let an unemployed me represent roughly one percent of all TV homes in L.A., and half of one percent nationally. At the time, I lived in a tiny apartment in Alhambra, the gateway to the San Gabriel Valley of Southern California. Alhambra is nice and has pretty good Chinese food, but it is not what most people would consider magical.
Let me back up and give you some details on how an immature idiot like myself screwed with the system.
In 2006, I was newly married, living with my wife and dog, when we received a door-hanger flyer to consider becoming a Nielsen family. My wife was intrigued, as her main hobby was watching television. In fact, she's unusually methodical about it. Every fall season, she creates a grid of the TV schedule, color-coded to indicate the shows she will watch and what she anticipates will be canceled or renewed. Her predictions tend to be eerily accurate. So when the opportunity rose to become viewers who could actually be counted and heard, we seized it. We became a Nielsen household, despite the rather significant fact that I worked in the entertainment industry. I worked in movies, not television, and I was in between movies at the time, so technically unemployed – or at least that's how I justified it.
A week later, Paul from Nielsen came by our apartment. Paul set up every television with a black box, accompanied by a chaotic clutter of electronics behind the set. All this equipment connected to our internet and was used to feed our viewing data to servers nightly. There were now rules to watching television. Every time we turned on the TV, we were required to log in. There were eight buttons. My wife was No. 1; I was No. 2. If we had any additional people watching, they would be logged in as guests three through eight. Full disclosure: I often logged in my dog Joe as guest No. 3. (He sat next to me, so I thought that should count.) Every 15 to 20 minutes, the lights on the black box would start blinking to prompt us to confirm if we were still engaged and watching. This was especially interesting when you fell asleep watching TV and then woke to a barrage of lights in your face, as if you were tripping on drugs or having a seizure of some sort.
Besides the procedural aspects of viewing television as a Nielsen family, there were the regular surveys. Paul came over every few weeks to check on the equipment and ask a battery of questions. "Did you buy a new car?" "Any changes to the household?" "Did you get a new job?" No, dude, still here talking to you at two in the afternoon. All this information was apparently fed to a system that would create profiles for who was watching what in America. For our troubles, we were paid $15 a month. I was unemployed at the time, so, yes, we partially did it for the money, too.
During our time as a Nielsen family, my wife took her duties seriously, while I had fun with it — maybe too much. I fiddled with the number of guests viewing at our home, and often hooked up people I worked with and liked — for example, David Duchovny, whose first season of Californication had just debuted in 2007. We had a lot of "viewing parties" for that show, though I never told David about it. And I'm still convinced that my viewing habits helped keep Chuck (starring my friend Zachary Levi — I also never told Zach) on for five seasons. I thought of myself as their silent ratings Obi-Wan, watching over their shows.
I'm sure there are plenty of Nielsen households out there that take this very seriously. I just didn't. So, to Nielsen, I apologize. To the networks … I apologize? Isn't it karmically fitting that my life now revolves around something I didn't take seriously? My Wednesday mornings during TV season, after Fresh Off the Boat and The Grinder air simultaneously on different networks (no longer the case come January), usually start with me involuntarily jolting awake at 5 a.m., already nervous. Casey Kyber, the wonderful research exec at 20th, forwards me an email with the LPMs. If it's great news on one of the shows, I'll send the showrunner a text. But usually I wait for the Fast Nationals at 8 a.m.* and commiserate with my partner Jake about them, and thus begins my split personality. Based on the results, I send two different sets of text messages to the corresponding showrunner(s), and for the rest of the day, when visiting those sets or writers rooms, switch back and forth between mild disappointment and momentary relief. I had one week recently where it was Champagne in one production office and, the other one, well, no Champagne. Here I am — half sad, half happy, all anxious. I'll do this again in three days, then later again in seven, when the DVR numbers come in.
Please be good to me, Nielsen households.
*Last week, FOX declared it will no longer be recognizing Live + Same Day ratings.  I hope to sleep in later on Wednesday mornings and delay my anxiety to later in the week.