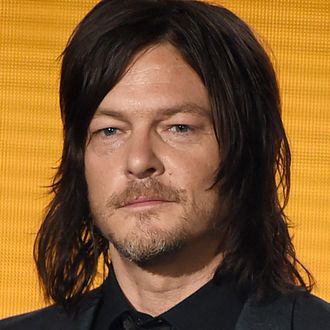 Norman Meat-us.
Photo: Kevin Winter/2015 Getty Images
Another Walking Dead fan has done another peculiar thing to Norman Reedus: Over the weekend, according to reports, a woman-turned-walker expressed her love for the actor by chomping into his chest. The bite heard round the tristate area occurred at New Jersey's Walker Stalker Con during a photo op. TMZ reports Reedus (Daryl Dixon on the show) was not harmed and will not press charges; he was able to finish his time at the con as planned. The fan, however, was promptly tossed out of WSC and banned from future events, according to an Instagram (now private) post that fan site Undead Walking has attributed to the woman responsible.
"Finally meet [sic] the love of my life, and get banned from the rest of the CON and lose two more $100 photo ops with him because I lost my mind … got so excited standing beside him … & just turned my head and bit him!" she explained. "I don't know what came over me. It wasn't my intention to hurt him. I'm sorry Norman!"
Here's what Reedus had to say:
Loud and clear.