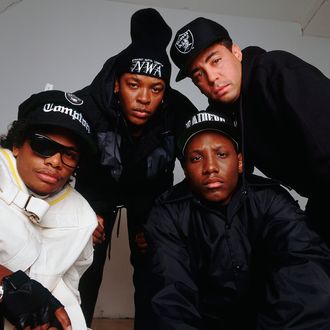 Photo: Lynn Goldsmith/Corbis
Seminal rap outfit N.W.A and a trinket cabinet's worth of classic '70s dad-rock bands comprise next year's Rock and Roll Hall of Fame inductees. Capping off a year that saw Straight Outta Compton become the highest-grossing musical biopic of all time and N.W.A's music crack the Hot 100 for the first time, their induction is only made sweeter by the fact that they've been nominated three times before. Speaking with Rolling Stone, Ice Cube said of the good news:
"It's hard to sum up exactly what it means. It means a lot of things. It means that the group's mark is kind of solidified. It's all legitimized in a way because the whole music industry has to honor the group in a way. It's just hard to sum up in words, really."
Other inductees include: Deep Purple, whose "Smoke on the Water" is the first guitar riff learned by every teenager in America since 1972; Chicago, who have 18 platinum albums and 21 top-ten singles; Cheap Trick, whose power-pop influence can be heard in the Ramones, Guns N' Roses, and Weezer; and Steve Miller (but not his band).
Among those who didn't make the cut are Chic, Janet Jackson, Nine Inch Nails, and the Smiths. Morrissey probably didn't notice the snub, though, as he's too busy being grumpy over "winning" the Bad Sex in Fiction Award. As he eventually conceded, nothing is more British than bad sex.