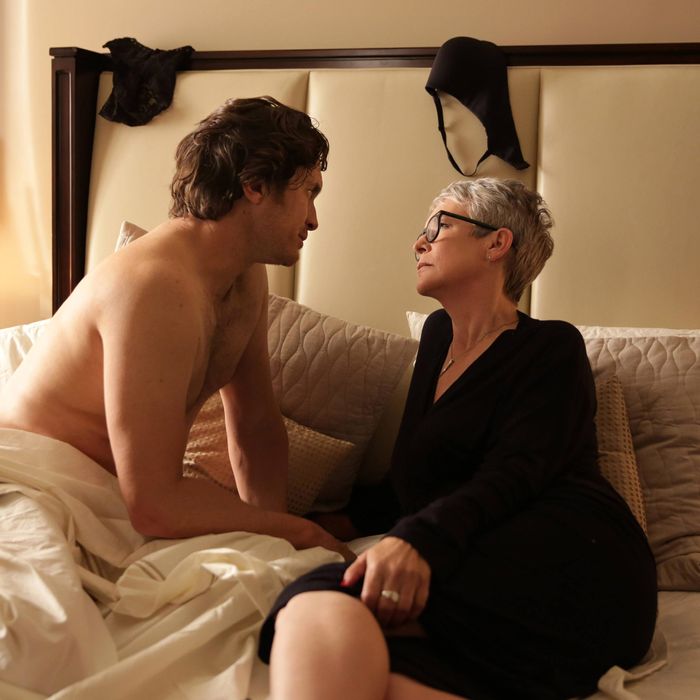 From left: Oliver Hudson and Jamie Lee Curtis in the Scream Queens finale.
Photo: FOX
Oliver Hudson was not super excited by the advice he got from co-star Jamie Lee Curtis right before their big love scene in Tuesday night's Scream Queens finale: He was posing on the bed in nothing but a Speedo, carrying a rose and about 15 pounds more weight than he's used to. "She said, 'Honey, let it go. It's funny. Dadbods are in!'" he says. "That's not very reassuring. It's like, 'Thank you?' With a question mark at the end."
In his defense, Hudson says that when he signed up for the role of Wes Gardner, the overly concerned father to protagonist Grace (Skyler Samuels), he was in great shape. Then he hurt his ankle and couldn't run or train, and he moved with his family to New Orleans last summer to film the 13-episode series. As anyone who has even heard of the city could tell you, he spent most of his time eating rich foods and drinking rather than pecking on quinoa and sucking down green juice.
"I read the script toward the ends of the summer saying, 'You are in a Speedo with fucking Jamie Lee Curtis.' This is not good news," he says. "That was my main concern after I realized I gained 15 pounds. But if I was in shape, it wouldn't be as funny … Honestly, you become uninhibited when you're that naked … I was able to be a complete maniac and let loose and have fun."
Hudson says the scene was one of his favorites this season, but he's still a little pissed the killers turned out to be Boone (Nick Jonas) and Hester (Lea Michele) instead of him. "It's always fun being the guy doing everything," he says. "If the consolation prize is having to be in a Speedo with Jamie Lee Curtis, I'll take it."
There was some fan speculation early in the series that he could be the one trying to get revenge for his girlfriend dying in a sorority bathtub, the incident that set off the show's revenge plot, but it wasn't meant to be. "It was nice to be part of the conversation," he says. "I was hoping I would get to be the killer, but it was too obvious. I knew it wouldn't be me."
The cast didn't know who the baddie would be until the read the final script a little more than a month ago. "You could have plucked out any character, and through flashbacks, you could have explained how and why they were the Red Devil," he explains. "I'm not convinced they knew from the beginning. They said they did, but it could have changed throughout."
Hudson's Wes survived the final episode, had the best sex of his life with Curtis's murderous Dean Munsch, and the two rode off happily into the sunset together. "From a character standpoint, it shows how shallow Wes is," he says. "Sex equals love for him. Sex equals going to Napa and spending the rest of your life with a woman who is 15 to 20 years older than him that murdered people."
Wes's other love interest, the deranged Gigi (Nasim Pedrad), turned out to be one of the Red Devil killers as well. "I think that speaks to the male species," Hudson jokes about Wes staying with these dangerous women, adding that he would never continue dating a killer. "If I knew, absolutely not. Not a chance. There was no justification for murder for me to be like, 'Yeah, I'll stick with you and see where this goes.'"
Ironically for Hudson, his character on the slasher show survived the entire season, but his character on Nashville, sleazy music executive Jeff Fordham, was killed off earlier this fall. He only had a one-year contract on Nashville and decided to take the Scream Queens gig when it was offered to him.
"Fox was gracious enough to give ABC four episodes with me, and they thought, If we only get four episodes, let's throw him off a building," he says, adding that his Nashville character may have been the biggest killer of all. "I'm sure Jeff has killed people we don't even know about."