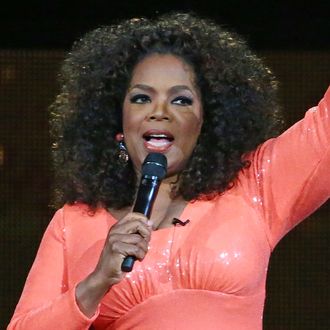 You get a book deal! And you get a book deal!
Photo: Scott Barbour/2015 Getty Images
Congratulations, fellow human and therefore fellow fan of Oprah Winfrey, you're getting a copy of her memoir! Just wait until 2017, and then take the ticket hidden under your seat to a local bookstore (or Amazon page because maybe they won't have those in 2017), pay the asking price, and voila! Yes, the book-club organizer and favorite-things selector has signed with Flatiron Books, an imprint of Macmillan, to write a memoir, The Life You Want, which will be published in January 2017.  Oprah has said that she hopes she "inspires other people to live the highest, fullest expression of themselves" (so basically what Oprah does daily) in the book and plans to detail a few untold stories from her life, "even the painful ones." Because Oprah gets a lot of leverage, as part of the deal she's also starting her own publishing imprint at Macmillan, which will focus on nonfiction — let's hope the imprint is called "Oprah's Book Club," just to neatly vertically integrate the brand. In 2014, Oprah published What I Know for Sure, a collection of her columns from her magazine, but this is her first full-length book.