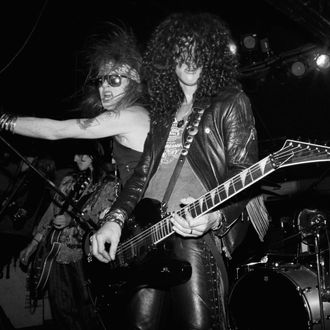 So, we're finally going to Paradise City?
Photo: Marc Canter/Corbis
Are you sitting down? Good. Prepare to go to Paradise City: Billboard reports that Guns N' Roses are planning to reunite, for the first time in more than two decades, at Coachella next year. According to their sources, the band's original lineup — yes, including Slash, but no word on the others — will headline Coachella 2016 and then embark on a 25-date stadium tour throughout North America next year.
This new report follows several clues the band has been leaving since last week that a reunion might be in the works. Fans first noticed the band recently updated their official site to show their famous original logo of two silver revolvers wrapped in red roses on the homepage, while their Facebook profile picture has been changed to an image of a crowd with a link to their site. Then fans reported attending screenings of Star Wars: The Force Awakens where a mysterious teaser featuring only crowd footage and "Welcome to the Jungle" popped up before the film with no explanation:
Now it appears the pieces of the puzzle are starting to come together. But getting to see Axl Rose and Slash glower at each other all night for the first time since 1993 won't come cheap: Billboard says the band is asking for as much as $3 million per show, with ticket prices in the range of $250 to $275. (Axl is not the best at money management, which may explain the insane price tag.) Keep in mind, this may all be a cruel hoax — and not the first elaborate stunt GNR have ever pulled. It's also not the first time someone's tried (and failed) to make this kind of reunion happen either. Reps for Coachella and the band have yet to comment to Billboard, so sit tight.