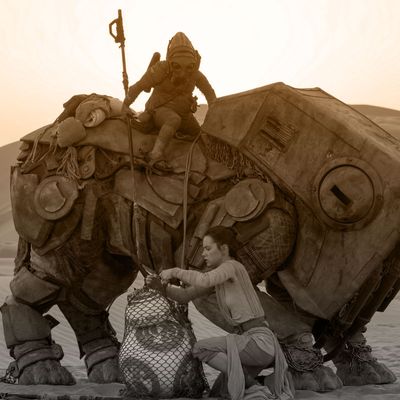 Can Star Wars: The Force Awakens shake up the Best Picture race — or any other Oscar races, for that matter? It's the question that has divided award-season pundits over the last several days, and since The Force Awakens is the only game in town this week (at least, until big contenders like The Revenant and The Hateful Eight arrive on Christmas), I thought I'd devote this week's Oscar Futures column to a thorough rundown of the film's chances. The other six Star Wars movies all managed to score nominations, though some of those sequels were better rewarded than others. Given that history, how many nods are possible for The Force Awakens?
Let's start with the biggest potential nomination, for Best Picture. The very first Star Wars movie managed it, though no Star Wars film since has cracked the category. Still, with the Best Picture race expanded past five nominees, could The Force Awakens squeeze in? This is, after all, a banner year for blockbusters, and populist hits like The Martian, Mad Max: Fury Road, and Creed are all in awards contention.

The thing that worries me is that the Screen Actors Guild snubbed all three of those movies when it came to key nominations (Mad Max did manage to score a stunt nod), which suggests that a large swath of voters simply doesn't see these mainstream hits as awards vehicles. That same kind of limited thinking could cripple the chances of The Force Awakens, which dutifully reestablishes the Star Wars brand but hardly redefines the genre in the way Mad Max attempts to. Gone are the days when a well-made hit like The Fugitive could lay confident claim to a Best Picture nod; now the more indie-leading Academy prefers its blockbusters to have some sort of additional oomph or weighty subtext that allows the movie to be taken more seriously. Force Awakens is fun as a nostalgia blast and formidable as a blockbuster-to-be, but I'm not sure voters will see it as anything more.

Given those Best Picture odds, then, I wouldn't expect to see J.J. Abrams penetrate the Best Director or Best Adapted Screenplay race. He'd have to squeeze past Ridley Scott and George Miller to get into the first category, and while his Force Awakens co-writer Lawrence Kasdan has been nominated for four Oscars in the past, no one is singling out the screenplay this time around.

Can an actor break through? That hasn't happened for this franchise since Alec Guinness scored a nomination for the very first Star Wars, back when this sort of thing was much more novel. Since then, it's become difficult for an actor to get recognized for genre fare, and while the Force Awakens cast turns in star-making work, none of their roles suggest an awards arc. I suppose there's an outside chance that there's enough affection for Harrison Ford as Han Solo to land him on someone's Best Supporting Actor ballot, but when it comes to actors from resuscitated franchises who have a real shot at Oscar, my money is still on Creed's Sylvester Stallone.

So that leaves us with the below-the-line categories, where Star Wars tends to make its presence most deeply felt. A nomination for Best Visual Effects is perhaps the film's most slam-dunk possibility, and the first three Star Wars movies all took home a trophy for their groundbreaking image-making. A win is even possible here, though it's worth noting that the last time Star Wars had a real shot at the top spot — in the 2000 race, when the pioneering prequel The Phantom Menace was nominated and tipped to win — it lost to The Matrix, a movie that people simply liked better. If there's a similar dark horse this year that could pose a threat to Rey, Finn, and their crew, it's Mad Max.

The Phantom Menace managed nominations in both Best Sound categories, and I think The Force Awakens can duplicate that feat. What about Best Production Design? The first Star Wars movie won an Oscar for its art direction, but I think The Force Awakens may hew too close to the look of that film to contend: Its desert planet is a dead ringer for Tatooine, and the nooks and crannies of its Starkiller Base are too similar to the first film's Death Star. Best Costume Design and Best Makeup and Hairstyling are possibilities, but, again, the work in these fields is so indebted to the Star Wars movies that have come before that The Force Awakens could be penalized for it.

The film's final shot, then, will come in the Best Original Score category. The work that composer John Williams has done for Star Wars is truly iconic, and one of his six Oscar wins came for the very first movie, which established so many of the franchise's famous themes. At 83 years of age, Williams is drawing closer to retirement, so the Academy could pick this occasion to give him his first Oscar since 1994's Schindler's List.

It's important to note, though, that while Williams was nominated for each of the three original Star Wars films, he was snubbed for the prequels, despite a vigorous score for The Phantom Menace that I think is actually better than what he turned in for The Force Awakens. (That's perhaps the only thing George Lucas's maligned movie can lord over the better-reviewed new film.) Additionally, Williams would have to fend off contenders like revered veteran Ennio Morricone (whom Quentin Tarantino wooed for The Hateful Eight) and James Horner (whose score for The 33 was the last thing the late composer wrote). A long time ago, Star Wars had awards season all to itself. These days, the galaxy is a lot more crowded.
For more about the awards potential of Star Wars, listen to Vulture and The Frame's "The Awards Show Show" podcast below—and be sure to subscribe to stay on top of this year's awards conversation.