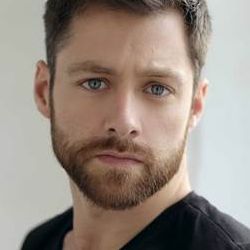 Outlander announced on Monday that the show has found its adult Roger Wakefield in the form of Scottish-born actor Richard Rankin, and while book fans might rejoice at this news, at least one cast member, Graham McTavish, is sadly disappointed.
McTavish currently plays Dougal MacKenzie, the war chieftain of Clan MacKenzie, who knocks up accused witch Geillis Duncan. The product of their union is the ancestor of Roger Wakefield, the adorable little boy adopted by Reverend Wakefield, whom we met in season one, during the 1945 scenes. Come season two, we meet up with Roger once again, only this time, he's an adult. Since the show already has a history of one actor playing both ancestor and descendant  — see Tobias Menzies, who plays both Frank and Black Jack — McTavish hoped he might have a shot at doing the same with Dougal and Roger. During a break while shooting on location on Friday, he explained his master plan to Vulture.
"This is my plan, they just don't know it yet," the bald-and-bearded actor laughed. "The thing about Roger is he was fully bearded from a very early age, almost ridiculously so. He had amazing facial hair for a 7-year-old. And he was bald, too! So I just don't see any reason why they can't cast me in the part. Think how much trouble it will save them!"
As for Roger's 1968 love interest, Brianna, McTavish has a casting idea for that as well, following the same ancestor-descendant mold, even if it involves a little gender reversal: Have Sam Heughan play both Jamie and his daughter. "Listen, if you just do Sam's hair a bit differently, put him in the right frock, and get some mood lighting," he offered, "you'd never know [he's a guy]!" Given that Roger and Brianna get pretty close over the course of the story, would McTavish be willing to go there with Heughan? He seemed delighted by the prospect of kissing his co-star, but wasn't so sure Heughan would like getting scratched by his whiskers. But now that McTavish has lost his dream role, this kiss is not meant to be. Perhaps predicting this outcome, McTavish was quick to suggest we intervene with both the fans and showrunner Ron D. Moore. "Just put a word in," he asked us. "Get Ron on the phone. Tell the fans, hashtag Graham-for-Roger." Sorry, Graham, we were a few days too late.