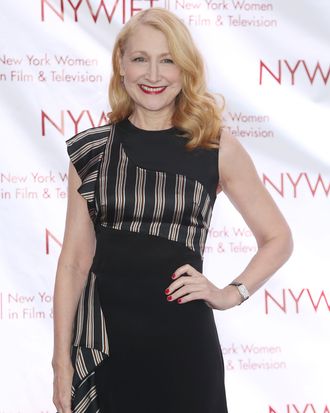 Patricia Clarkson.
Photo: Jimi Celeste/Patrick McMullan
Patricia Clarkson's brief yet memorable stint on Broad City lasted a mere three minutes, but that didn't stop her character — a drunken psychiatrist attempting to host a dinner party before her thieving 30-something son ruins it — from quickly becoming a fan (and meme) favorite. Unsurprisingly, Clarkson had a fabulous time shooting the episode, which also greatly increased her cool-cred with her family. "How hot are those girls? Those girls are beyond!" Clarkson told Vulture at the New York Women in Film & Television's Muse Awards on Thursday. "Seriously, my cool factor went through the roof. My nieces and nephews thought I was the coolest person because I was on Broad City. I went from mother-lover to Broad City."
Would she return to the show to reprise her character? "Oh, I'd go back to Broad City. I think that woman is still there," Clarkson continued. "I want to go back on Broad City. That's where my heart is." Let's hope Ilana and Abbi accept that psychiatrist's offer to come back and see her at the swanky brownstone after all.