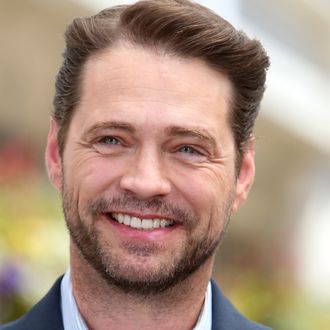 Jason Priestley.
Photo: David Buchan/2014 Getty Images
90210 star turned movie-helmer Jason Priestley will bring the life of the late, beloved SNL alumnus Phil Hartman back to the screen in the form of a biopic, according to Variety. Priestley has wrangled Daran Norris to star as Phil, as well as Jonas Chernick to pen the script; titled Nice Guy Phil, the film reportedly looks at the comedic and emotional challenges that colored Hartman's career, which spanned roughly two decades and included notable contributions to The Simpsons and NewsRadio, too. "Comedians are notoriously complex people and Phil was no exception," Tyler Levine, a producer on the project, told Variety. "Anyone that knew him always says that he was the nicest guy they ever met."
Priestley has said he and Hartman became friends after the former's SNL hosting turn in 1992 — staying in touch until Hartman's tragic, untimely death in 1998. The director and his team went with Norris (Veronica Mars, Bolt, The Fairly OddParents) for the role not only because he "looks quite a bit like Phil," according to the trade, but also because he's a veteran of voice work — a key quality for someone tasked with portraying one of SNL's most indelible impressionists. Nice Guy Phil, which reportedly has the cooperation of Hartman's estate, is slated to begin production next summer.