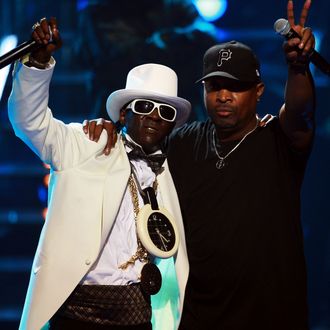 Public Enemy.
Photo: Stephen Lovekin/2009 Getty Images
Turns out carpooling can be a really good way to build your fan base — Public Enemy learned this a couple days ago, when a handful of members had to hitch a last-minute ride to one of their shows, according to reports. The legendary hip-hop group had been scheduled to appear for a record signing and then jet ASAP to a performance Saturday night with the Prodigy at Motorpoint Arena in Sheffield, England. Bad news: The cab they'd booked left without them because they were running late. Good news: British photographer Kevin Wells showed up for an autograph, with an empty Ford Focus and a willingness to help.

"People started panicking and looking for someone to drive, so I volunteered," Wells told the Sheffield Star. "It was very, very surreal," he later explained to The Guardian. "We all walked to the car — Flavor Flav, Chuck D and two of their entourage — and they all just piled in. I'm local to Sheffield so I know all the back streets to get there pretty sharpish so I didn't feel too tense." (Not all heroes Uber, it appears.) Wells said he got the rappers there in 15 minutes, but not before the Focus group indulged in small talk, dealt with panicky phone calls from management, and jammed out to Queen's "Bohemian Rhapsody" (as you do).

"I was looking in the rear view mirror," Wells told the Star, "thinking, Is this actually happening?" Yep:
Public Enemy offered their temporary chauffeur guest-list privileges for the night, but Wells had to head to work, photographing other concerts. Of the experience, the convert-in-the-making concluded: "I like them but I wouldn't say I'm the biggest fan. To be honest I wouldn't say rap and hip-hop is my favorite kind of music, but I do appreciate their stuff because they are one of the legends," according to The Guardian. "So I've bought the new CD anyway." All in all, good weekend for Kevin, Ford Focuses, and Public Enemy.