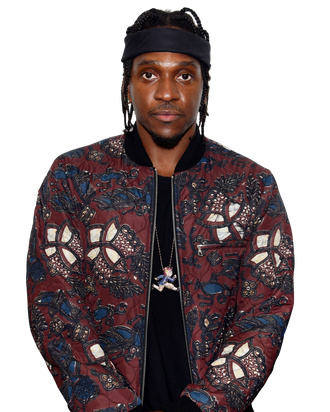 Photo: Jamie McCarthy/Getty Images
For a certain kind of hip-hop fan, the first time they heard Pusha T spit was either his venomous yuugh! ad-lib on G.O.O.D. Music's 2012 posse cut "Mercy," or his unlikely guest-spot on Kanye West's toast to the douchebags (and 2010's best song), "Runaway." "It's weird, I know," Pusha T thinks on it now, more than two decades after founding one of rap folklore's favorite duos, Clipse, with older brother No Malice (they formally disbanded last year). Even if you can't pinpoint the Virgina Beach native in a G.O.O.D. family portrait, you know Push: Clipse's Neptunes-produced "Grindin'" has been sampled everywhere, and his affinity for that pure white is legendary.
In 2013, he boosted his profile with the release of My Name Is My Name, a searing debut solo album that was met with critical acclaim. He's spent the last two years reuniting with Pharrell and Chad Hugo, dropping genre-warped bangers with Skrillex and Hudson Mohawke, and, well, a bit more. When we meet at New York's Dream Hotel a few days before Thanksgiving, he's recently been named president of West's G.O.O.D. Music. Still, Pusha's own music remains his priority: He's announced the release of a surprise solo project Darkest Before Dawn: The Prelude, out December 18, meant to tide fans over until his King Push arrives next spring. But even that appetizer to the album proper feels like an event; its credits are a checklist of hip-hop tastemakers and icons (Kanye, J. Cole, Pharrell, Beanie Sigel, Diddy, The-Dream, A$AP Rocky, Jill Scott, and many more).
Vulture recently met with Push to discuss his new music, the future of G.O.O.D. Music, working with Timbaland for the first time, and why he wants Cruel Summer 2 to finally happen.
Kanye just appointed you president of G.O.O.D. Music. Why now, and why you?
It came from out of the sky, it wasn't something I requested. I literally got a call from Kanye asking me how I felt about being the president of G.O.O.D. Music, fresh off a plane, and he explained to me that he feels people respect my decisions and I'm entrenched in the culture. I'm in the now, whether it's social media or what's going on culturally with kids today. He said that he knows I care.
What do you care about seeing happen to this label now that you're running it?
To me, it's about high-level, high-quality output. It's about keeping with the tradition of being trendsetters. I feel like G.O.O.D. Music has been really good at being first and staying on top of the waves, and that has a lot to do with my fanfare of the music. I wanna capitalize off of everything that I believe has made G.O.O.D. Music important. It's responsible for making not just the music important, but art [with DONDA], too. We brought that back to the game a bit, putting the detail of artwork [on the same level as the music], which also had a lot to do with fan engagement and anticipation. And I personally wanna see touring as a collective.
You've talked about doing another Cruel Summer compilation, but the roster has shrunk and shifted a bit since 2012. What's your vision for it?
I think the rapport that we have with just artists in general, we could do a Cruel Summer and it could be the majority of G.O.O.D. Music artists. But anything we were lacking, we could go get from anybody outside the label. Who doesn't wanna be on a G.O.O.D. Music album? So I don't worry about that too much. Our roster now is strong: If you look at myself, [Big] Sean, 'Ye, man — it's like with Hov, he has his own thing going on — you got Kacey Hill over in that genre, Teyana [Taylor], people who are vocally strong. There's nothing we can't do.
What would it take to the revive the G.O.O.D. Friday singles series? I think that's the label's best initiative so far; every rapper does these weekly freebies now (Future, Rick Ross, Jeezy).
The difference between what we did with that series and what people are doing now, I believe, is we were given really high-quality music. It was so stressful, people have no clue. At the same time, you gotta remember, we were working on Kanye's album [My Beautiful Dark Twisted Fantasy]. And he was so dedicated to doing something every Friday, but while he's working on his own album, he's getting caught up. Then, come Thursday, he's like, "Oh, gotta have something for Friday!" Records just don't get made like that all the time, but they did for us. And it took a collective of all us focusing, and it was awesome, but so stressful. If the quality isn't gonna be that high of a level, then I don't think we should do it anymore. I would love to, but it takes everyone to be super, super focused.
You're about to release the first of two albums. How did Darkest Before Dawn and King Push end up becoming separate projects?
A lot of them were made together simultaneously. But I like my albums a certain way, and this is something that's stuck with me since probably 2006, with Clipse's Hell Hath No Fury. I hadn't made an album that linear, that locked in. Even if you look back to My Name Is My Name, it's just [gasps]. Those are the best albums to me. This time, I had a collection of these records that I'd made all new, all fresh, top-notch production and lyricism. And I just knew, this is what I wanted to give my fans. It got to a point in the sequencing stage that I just — there's so much that goes into the single factor. And I just realized, my fans don't care about any of the politics of what you guys [the label] are talking about right now. They love this right there, and I know I can turn my back to it [the process of picking radio singles], and they'll still gravitate to it anyway. When King Push comes out in the spring, man, I've got things on that that are like out of this world.
Musically, I feel like King Push is gonna be setting a crazy standard. I don't know how often those albums comes, and I don't know if I'll be able to make that again. That's happened to me before. I told people I could never make another Hell Hath No Fury, and I can't. Might be able to make Lord Willin' again, but I can't make Fury again, and I feel like King Push is on par with that. This is what people love from me.
Almost two years ago, you posted photos of you and the Neptunes in the middle of a 20-day studio session. But I only saw Pharrell's name listed for production on this album. What's going on with those songs?
Yeah, I've been working on the album for a long time, but I've also left it alone. I'm touring at the same time, and these records have to go through a process. Usually, the way most producers are working now, I'll get a skeleton to rap to, then I lay vocals to it and give it back to them to do their thing around my vocals. Sometimes it turns into a whole other song. Pharrell's only on this one, but we [Pusha and the Neptunes] have made records together. First of all, it's way too expensive to be throwing out their shit [laughs]. They'll be finalized, mastered, and you will hear them.
This album is the first time Timbaland has produced for you, which I was shocked to learn. 
You say that because you know we're both from Virginia Beach, and you'd probably think that even further if you knew that my mother and his mother lived six minutes up the street from each other. Tim's always been around — him and my brother [No Malice] were in a group together as kids — but when Tim got on, musically, he was in New Jersey. Him and Missy [Elliott] were first, then me, my brother, Pharrell, and Chad [Hugo] were still local. But I always worked in in his studio, and still to this day I work in his studio for free. It's so funny because I simply called him one day and was like, "I need some music." And he was like, "Okay," and sent it over. We've been hanging out like super heavy as of late because he's home mixing an album right now.
You explored EDM even more this year, and now you've got Hudson Mohawke and Baauer on the album. How'd you connect with Skrillex and Yogi?
They reached out to me. That's another perk of being on G.O.O.D. — an eclectic range of artists, their sensors go up for people on the label. To me, EDM is a hybrid of hip-hop: the drums, the sonics of it — it's hip-hop-influenced. Some people don't want to explore it, but I personally have been touring with these guys for years, doing the festival circuit in Europe for years. So it's nothing to me to be onstage and have everybody run from my stage to Skrillex's, or vice versa. I've seen the fans' paths cross, and I wanted to do something different that nobody's doing. There's no boundaries with it. Me and Yogi and Skrillex — I was just with Skrillex in Vegas, actually. People wonder why I do these records, but you can love anything that you're in the mix of once you're in that element. Who's not having a good time at any of those festivals? Those who don't understand it, they're not there. They don't get it.
Your new Adidas sneaker hit stores on Black Friday. Kanye has said he wants to be the Robin Hood of fashion, but that it's also unrealistic to expect luxury for mass consumption at inexpensive prices. Is affordability something you're mindful of when you do these sneakers?
These shoes are $200. And I think shoes are [supposed to be] $200. I don't know if it's a far cry from what my favorite shoe was. I remember Jordans being $165 growing up. I've had a clothing line for seven years, but mine by far isn't high-fashion — it's streetwear. There's pretty much a ceiling on all these sneakers when they drop, but once they get into the reseller's hands, it's wild.
[Pusha asks a colleague at the table] Are sneakers, before the reseller, really over $200?
Colleague: Yeah, Lebrons start at $250. There are others.
Pusha: Really?! So sneakers are the price of Louboutin shoes, in the thousands?
Colleague: I think the general price point is probably about $190 to $210.
Pusha: Oh, right. That's perfect. See, there's a ceiling.
But that's still pricey.
Is it?
If a parent with three kids buys a a pair per child, that's over $500. It's a sacrifice for a lot of people, especially if you're earning minimum wage.
I don't know. I've been that kid asking for the sneaker. But I don't see a big difference between sneakers costing $165 in 1988, and costing $190 or $210 in 2015. I don't even see a difference in that. I knew what my dad and mom were making, knew when someone wasn't working, knew when there were arguments over groceries. I feel like there's a true, general ceiling on sneaker prices, and it doesn't change until it gets in the hands of the reseller.
My Beautiful Dark Twisted Fantasy recently turned five, and it increased your exposure tremendously. What's your favorite memory from making the album Chris Rock says is better than Thriller?
I'm down with Chris Rock, he can recite Hell Hath No Fury backwards and forwards. My Beautiful Dark Twisted Fantasy is one of the greatest hip-hop albums of our time: high-level raps, high-level production, cinematic for an album. "So Appalled" was on that album, so if you're asking for my highlight, that was mine, even more so than "Runaway." It was over a RZA beat, then to end up with Jay Z being on the same record with me, Kanye, and CyHi; man, I was in great rap company on a record that was gonna get all the ears. I think I shined on that record.