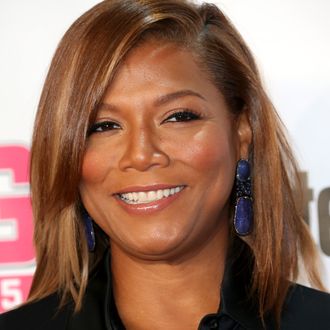 Queen Latifah.
Photo: Frederick M. Brown/2015 Getty Images
Queen Latifah will headline Lee Daniels's next potential music-industry drama, Vulture has learned. The singer-rapper-actress has been cast as a beauty-salon owner named Carlotta in a currently untitled pilot, which will be written, exec-produced, and directed by the Empire creator. The show idea (not ordered to series yet) involves three other young women who form a girl group with lofty dreams of dominating Atlanta and telling its other musicians to move, get out of the way. Latifah's Carlotta, who will most assuredly have pipes of her own, is supposed to become a surrogate mom for the group members — played by Jude Demorest, Ryan Destiny, and Brittany O'Grady — by not approving of their squad and life goals, but still supporting them.
Variety adds that transgender model Amiyah Scott will also have a role in the Dreamgirls-esque project, but details of her character haven't yet been released. The pilot, being produced by 20th Century Fox Television, begins shooting this month, which is especially perfect if you're thinking of doing "Pay More Attention to Queen Latifah" as your New Year's Resolution. Thanks to 2015, 2016 might already be two steps ahead of you.