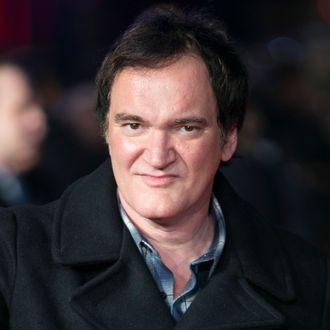 Quentin Tarantino.
Photo: John Phillips/Getty Images
Years ago, Reservoir Dogs–era Quentin Tarantino had eyes on a big Luke Cage, Hero for Hire movie. It was his favorite comic book as a kid, one he had thought about adapting for the big screen many times over. Aside from the fact Pulp Fiction happened instead, it's been somewhat unclear why the helmer shelved the dream project. But in Nerdist's recent Tarantino podcast, the Hateful Eight mastermind reveals that bod debates also partially contributed to the project's demise.

Around the 33-minute mark, Tarantino says:

It was my comic-geek friends that almost talked me out of it. I thought Larry Fishburne back in the day would have been a great Luke Cage, and they were talking about Wesley Snipes. I could see them both, but it was like, Ah, I think Fish would be better. And they'd go, Yeah, he could work out and everything, but he doesn't have the bod that Wesley Snipes has, and Luke Cage needs to have the bod. And I literally was so turned off that that would be both their starting and ending point that — I don't know if I'm ever going to do it — but it literally put it in my head that if I do a comic-book movie, it should be an original character.
Tarantino has briefly addressed this before, when promoting Django — it just didn't sound like a disappointing Tove Lo song until now. Between this and time-jumping Kill Bills, Tarantino fans' Christmas wish lists are showing no signs of shortening. You can listen to the whole interview, in which the auteur also discusses Comic-Con, Speed Racer, and more of the comics he was into, here.