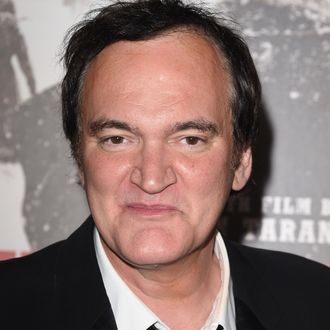 Quentin Tarantino.
Photo: Jason Merritt/Getty Images
At the The Hollywood Reporter's annual Director Roundtable, Quentin Tarantino discussed his desire to take his upcoming film, The Hateful Eight, to the theater.
"I want to write novels, and I want to write and direct theater. I've got to see how I feel when Hateful Eight is over, if I still have the same juice for it, but the next thing I'd like to do is a theat­rical adaptation of Hateful Eight, because I like the idea of other actors having a chance to play my characters. So that's where I'm at. I'm working my way into that time period, where I write novels and film pieces and film books, but in particular direct theater."
This is very exciting news, but leaves us with a lot of questions. Such as, will he still have the juice for it? And is juice slang for "bottles of fake blood"? Also, will "break a leg" take on new meaning backstage at a Tarantino theater production? Can't wait to find out!