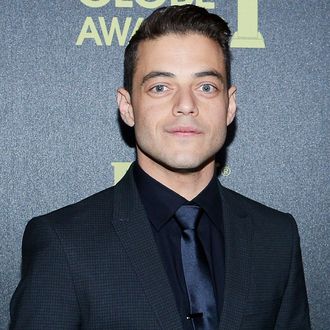 Could it be you, Rami?
Photo: Kevork Djansezian/Getty Images
Are you a young actor with a pulse and a penis? Congratulations, you might have a shot at playing a young Han Solo! THR reports that over 2,500 actors have auditioned for Han Solo for the Star Wars spinoff in what has reportedly become one of the largest casting searches ever. The casting director, Jeanne McCarthy, is culling the options so that Star Wars spinoff directors Phil Lord and Chris Miller can make their final pick before they go into production in January of 2017.
The search for Solo is adorably named — wait for it — "Red Cup" (you know, like a solo cup), and it's apparently the "easiest" part to audition for. So who has read for the part? Among the thousands of names, there are a number of famous faces, including The Fault in Our Stars' Ansel Elgort, The Walking Dead's Chandler Riggs, Mr. Robot dreamboat Rami Malek, The Avengers' Quicksilver Aaron Taylor-Johnson, Fantastic Four flameout Miles Teller, Alison Brie's fiancé Dave Franco, and Harry Potter's Draco Malfoy, a.k.a. Tom Felton. There's Jurassic World's dour Nick Robinson, Teen Wolf's thirst trap Colton Haynes, Galavant star Joshua Sasse, and even Chuck Bass (Ed Westwick!). Out of such a plethora of possibilities, we hope they go with the guy who shows the most heart.