It's curious how Regina King has existed on the periphery of Hollywood while being one of its most known quantities. Onscreen, she's magnetic, but her roles tend to be small enough that none defines her entire career. Every couple of years, one is labeled as her "breakout" performance; 2015 was one of them. She starred in two of the year's most celebrated TV shows: as Erika Murphy, the stoic, small-town doctor on season two of The Leftovers; and Aliyah Shadeed, the fiercely protective Muslim sister of an incarcerated man in her Emmy-winning, and now Golden Globe–nominated, supporting role on American Crime. Both characters are unusual and distinct, which may explain why King still has the appeal of a fresh-faced newcomer 30 years into a Hollywood career she's crafted so tightly, it can never box her into a corner.
King was quiet when she arrived at the New York Magazine office on a gray November afternoon, depleted from a morning marked by press appearances, traffic jams, time constraints, and no food, but she anticipated the needs around her like a seasoned pro, hopping in the chair for touch-ups to her hair and makeup, conferring with her team. The diminutive actress has a commanding presence, and the kind of star power that makes people, for lack of a better phrase, freak out. When King walked to the photo studio, everyone in the hallway clamored for selfies, punctuated by the occasional shout of "'Gina!" from passersby. A woman who saw her enter the building waited in the lobby for over two hours just to say hello to her when she left.
It wasn't always a foregone conclusion that Los Angeles–born King, 44, would successfully transition from her child-actor past, let alone land idiosyncratic, challenging roles for over three decades. After five seasons as the shy and smart daughter Brenda Jenkins on NBC's 227, King did a two-year stint as a communications major at USC. "Acting was a hobby for me when I started out, or maybe it was because there weren't a lot of examples of me when I found an interest in this art form," she explains, pausing. "This is a discovery as we're talking, actually, right now." King dropped out of USC when she realized she wasn't done with acting, but wanted to wait for a role that would help her break out of her sitcom mold. "I knew I was so much more than Brenda, and I just needed an opportunity to show it," King recalls. The moment came when she auditioned for Shalika, Ice Cube's braid-snapping girlfriend in Boyz 'N the Hood. "The casting director called me in to audition just to see if I could 'get ghetto' — that's what she said. 'Get ghetto.'" Her bright eyes widen as she cocks her head to the side, demonstrating the focused intensity she often portrays onscreen. "I was like, 'Watch me; just watch what I can do.' I read three lines and she was like, 'Okay, you can come back to audition for the producer and director.'" Having a breakout role in a breakout film was validating: "It needed to happen that way so I could say, 'Okay, this is good for you, and you're supposed to be an actor.'"
After Boyz 'N the Hood, "I saw that I was being stereotyped," Regina says. "I saw that a lot of us were being stereotyped. I didn't want to be part of that — that's not the narrative I was creating for myself." We rarely use the word auteur to describe women or people of color, but it's the best way to approximate the way she's approached roles in the years since the 1991 film, selecting characters with an eye to what emotions she can imagine channeling through them. Her next film, 1993's Poetic Justice, reunited her with Boyz 'N the Hood writer-director John Singleton; King created a backstory for her character, Iesha, who, on the surface, was like Shalika: an acid-tongued sidekick. "She was a young alcoholic; it was sad, so she wasn't the same girl [as Shalika]. Maybe she thought she had love at one point, maybe she lost a baby," she offers. "A lot of people didn't see it that deeply, but that's how I saw it. I would pass on roles if I didn't think I could build an honest backstory."
King started declining certain auditions when she was pregnant with her son, Ian Alexander Jr., in 1995. "I started saying no to things if the stories were too narrow, the kind that only depicted women as the kind of woman I was in Boyz 'N the Hood. It was a great role for me — I needed to do that to show the difference between what I did in 227 — but after that, that was enough."
The first role to really excite her after Boyz was Marcee Tidwell, Cuba Gooding Jr.'s intelligent, tough-talking, supportive wife in the 1996 hit Jerry Maguire. King was 25. "I saw that this was the time to be looked at as a woman, not as this girl," she says slowly. "Some people in our business want to play young as long as you can. I just wasn't interested in being a 30-year-old playing a teenager." Around this time, King also decided to change her agent and manager. "They got me, and understood that [I'm] an actor, not a celebrity. When someone understands that, they generate things that are interesting for you."
After a stint on the short-lived 2002 sitcom Leap of Faith and a memorable arc as a legal counselor on 24 (a role that was written specifically for her), King earned her prestige-TV bona fides as compassionate homicide detective Lydia Adams on the critically acclaimed TNT drama Southland; New York Magazine critic Matt Zoller Seitz called her the spine of that show, and "an actress for whom no praise is adequate." Working with a talented ensemble cast like the one on Southland, King says, has made her a better actress. While describing a pivotal Leftovers scene that had her in tense conversation with Carrie Coon, King excitedly recounts how the two vibed off one other, knowing she could bring more intensity to the scene by having a great counterbalance in Coon. "It's like going in and having a Serena-versus-Sharapova tennis match," she laughs.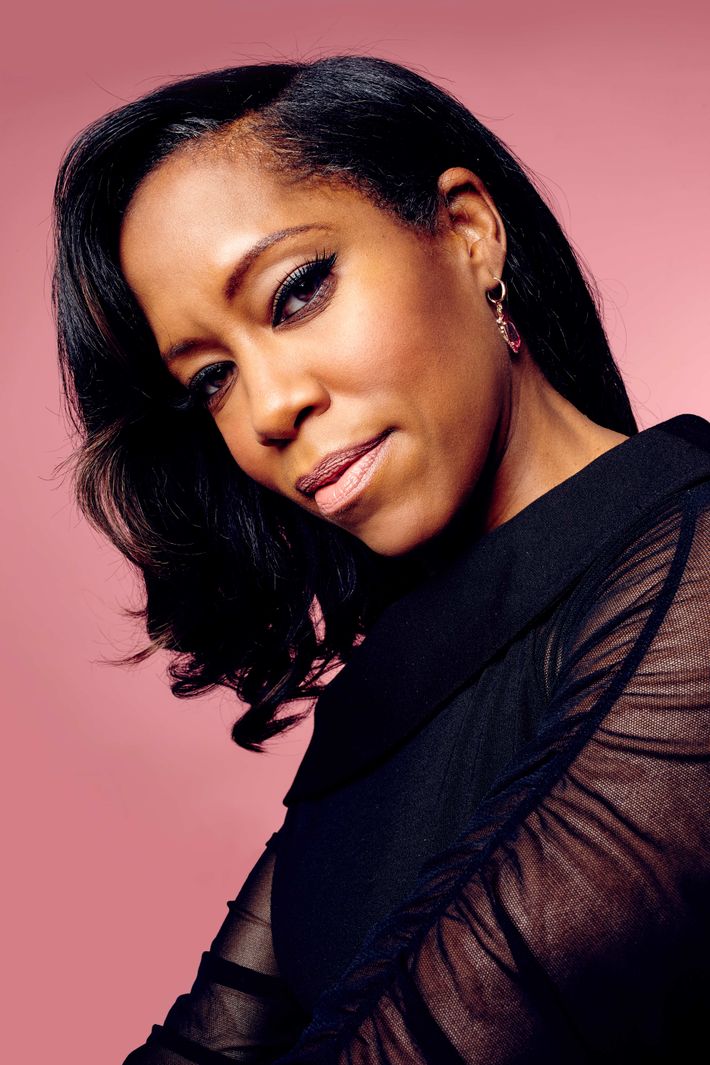 But it's stunning to realize that King has never carried a movie or TV show entirely on her own. One reason is she's prioritized variety over star turns: roles that are compact, but quietly explosive. Another is more personal: Acting in an ensemble allows her to spend more time with her son. "I'm not missing out on his life," she says. "I don't ever want my son to say, 'Well, the nanny was there.' I would be devastated." The mother and son are close. When I ask about the small black tattoo running down her left forearm, she tells me it means "unconditional love" in Aramaic; she and Ian both got the tattoo right before she took him to college. "His is huge, from his elbow to his wrist, but he said, 'No, you can't get that size, Mom!'" she laughs. "We considered different ones, but we felt this really embodies how we feel about each other."
I mention that it can often feel reductive when we only talk to people of color about race in Hollywood, the same way we only talk to women about juggling parenthood. She agrees, but emphasizes that her family is a huge, joyful part of her identity. "I feel like I was lucky to have a mother that allowed me to dream," she says, repeating the advice her mother gave her: "Always have a plan — that plan can change, but have a plan." King is grateful her mom didn't live vicariously through her as a child actor; having her own money by the time she graduated high school allowed her more room to consider what she wanted out of her career.
"She's both serious as an actress but delightful as a person," says John Ridley, the creator and executive producer of American Crime. Ridley, who has been writing, directing, and producing television and films for over 20 years, and won an Academy Award in 2014 for the adapted screenplay of 12 Years a Slave, was surprised that an actress of King's caliber said yes to American Crime. Ridley speaks favorably of her work on the series that eventually earned her an Emmy this year and a Golden Globe nomination earlier this morning, but also about how she elevates the business overall. "She's amazing about identifying the things she loves doing and moving passionately towards them," he explains, "but also saying, 'Okay, what are we doing here, what are we trying to accomplish.' It feels like a partnership." Plus, there's that Emmy. "Seeing Regina being rewarded for this show, when she took a chance on us and playing a Muslim-American woman," Ridley says, "was probably one of the proudest moments of my professional career."
King is gracious about her win. "It felt like a win for a lot of things I had done. Southland was a very special piece of art, and I would've liked to have seen a lot of people be recognized or nominated. So it felt a bit like, this is a win for all of us!" But she's also realistic about how much meaning to assign an award, and how far Hollywood has to go to rectify some of its pervasive issues with inclusion and diversity. "It's very interesting to think I've been in this business working successfully or consistently for 30 years," King says, "and that we still have a lot of the same conversations or disparities going on. It's really unfortunate. I am witnessing some shifts — obviously, with this past Emmy celebration. That was A+ for our industry. Well, not A+," she says, reconsidering. "I'd give it a B, B+, maybe."
King gets animated when we touch on her more recent roles and the intensity she gets to demonstrate onscreen, splaying her hands in front of her as if she were showing off a shiny new ring on every finger. "I was talking to someone and I said, 'I guess it's no surprise that I like shit that makes you feel uncomfortable. Like, it's a pattern now," she says, laughing. This is most evident in her recent turn as Erika Murphy on The Leftovers, the quiet, eerily calm small-town Texas doctor whose teen daughter disappears just as the secrets of her family start unraveling. She sees the role as an opportunity to do something different, both as an actress and a black woman. "The Murphys just happen to be black — it's not discussed because they're just a family," King says. "Here's an opportunity for me to represent a woman that seemingly has it all together but wants to [leave her family]." She agrees that women are not often given cultural space to deviate from the norm — or actresses given the space to play different types of mothers. "Every now and then, you hear that story where a man's wife left and he raised his kids, and you go, 'I want to meet her!' Because I want to know, how the fuck did you do that?"
More recently, King has been stacking up the director credits on her résumé. She directed six episodes of Being Mary Jane this year alone, as well as an episode of Scandal. "Regina is not someone who is interested in resting her laurels," says Ridley. She's set on balancing acting and directing, naming Angelina Jolie among those she's like to collaborate with ("she can direct me or I can direct her," King suggests). "My career right now is not a transition [away from acting], it's a hyphenate. In a lot of regards, it's just beginning," she smiles. "You guys haven't had a chance to see what I can do yet."