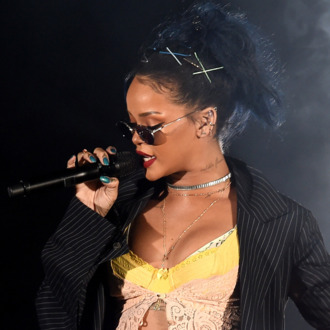 Photo: Kevin Winter/Getty Images
It looks like we're going to be watching those creepy Samsung commercials on loop for a little while longer. Among the hottest tabloid fodder of the better half of the year has been Rihanna's highly anticipated eighth album, Anti, and when it'll be dropping for our listening pleasure — unfortunately, though, it looks like we're going to have to be a bit more patient than we'd like. Speaking to popular English DJ Jo Whiley on BBC Radio 2 this past weekend, Sia (who wrote Rih's popular 2012 jam "Diamonds") revealed that she recently had a meeting with the Barbadian star where she played a selection of songs to potentially include on Anti.
"The other night she came over and listened to half of 25 songs I played her because she's still looking for songs for her new album," she said. "She was there to listen to songs and see if there was anything that she was into. It was a business meeting, for sure. She took four [songs], but I don't know if they'll end up [on the album]."
With her Anti world tour beginning in February, we can only reasonably assume the album will be out before then. And besides, absence makes the heart grow fonder, right?