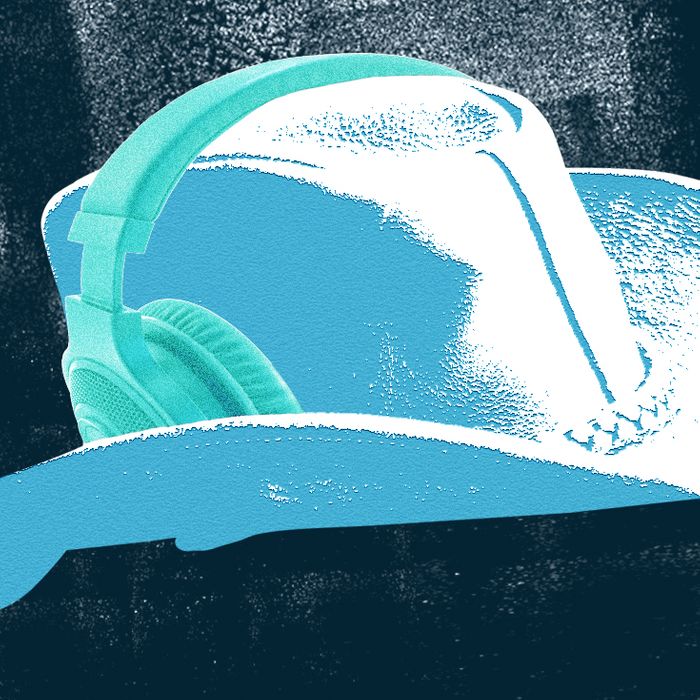 Photo-Illustration: Vulture
Ponder for a moment the prominence of the superproducer in pop, hip-hop, R&B, and dance music. There's no mistaking a Mike WiLL Made-It production; you'll hear a robotic voice intone his moniker within the first ten seconds. Classic Timbaland tracks are just as easy to pick out, thanks to the skittering eccentricities of the producer's beat-making, which is exactly why a legion of top-tier acts have sought out his magic touch and so many casual music listeners know his name. At times, Dr. Luke and Max Martin get more credit for the success of their deftly constructed singles than the songs' singers themselves; both producers have become headline-makers on their own. If there were a job description for the writer-producer of contemporary pop blockbusters, acting as a sonic mastermind and trendsetter would be at the top of the list, followed soon after by cultivating celebrity.
In the past, creative responsibilities were divvied up a lot differently than that in country music. There's no more song-centric format than country, and no more songwriter-driven music town than Nashville. It's the closest thing to a contemporary Tin Pan Alley, a resemblance promoted by the annual weeklong songwriter fest Tin Pan South. For all of the over-the-top soapiness of the TV show Nashville, the script is on point in its idealizing of Music Row songwriting as an art, craft, and identity that's regarded as essential to the industry ecosystem. Ditto the show's portrayal of song selection as a creative task that artists and producers take very seriously. In real life, they often sift through mountainous piles of demos from pro songsmiths for an album, searching for songs that the singer can really sell as their own. Even the most lasting partnerships between modern country artists and producers — Alan Jackson and Keith Stegall, Garth Brooks and Allen Reynolds, Kenny Chesney and Buddy Cannon — are less likely to be remembered for the producer's overarching sonic vision than the individual songs.
From the outside, there's a perception that this entrenched infrastructure — combined with country's vocal valuing of tradition — adds up to stylistic conservatism. In reality, the country mainstream has never been indifferent to popular trends, or resistant to evolution in general. As far back as the disco era, singles from Dolly Parton and Ronnie Milsap received the extended dance-club remix treatment, while in recent years, mainstream country's been leaning especially hard on pop sounds, whether it's a beat-goosed, Nelly-boosted Florida Georgia Line remix here or a Dougie-dropping Blake Shelton hick-hop excursion there. Now the influence of producer-driven pop, hip-hop, R&B, and dance music is not just showing up in country's sound — it's beginning to reshape Nashville's entire music-making process.
There's a growing demand in country for writer-producers with recognizable sonic fingerprints and programming chops, people who can deliver a hot sound along with a hooky song on demand. Country publishers used to have little alternative to hiring studio pros to demo their writers' most promising songs. Producers would borrow arrangement ideas from those demos, but ultimately rerecord the song entirely from scratch. More and more, the lines between demo and master recordings, production aesthetics and melodic/lyrical ideas, beats and songs are blurring. Singers are choosing songs for the way the track feels, and increasingly, those tracks are created during the writing, then further embellished in the studio before ending up on albums. In an era when recording budgets — even in music's most sales-driven genre — aren't what they used to be, it's not only less expensive but quicker to work this way. "Artists and labels know if something sounds great [based on the demo]," says Chris DeStefano, a writer-producer in this vein who's worked on Luke Bryan and Carrie Underwood hits, "so it's become, 'Well, let's just use that. It's ready. Why waste the time and redo it?'"
So far, the artists who want in on this new way of creating are mostly either rising acts like Sam Hunt and Thomas Rhett, or vets striving to stay current like Underwood and Keith Urban. Likewise, the producer-writers on the leading edge of the trend tend to be either fairly new to the industry — regional hip-hop expat Zach Crowell, former pop artist Jimmy Robbins, not-long-out-of-college Alysa Vanderheym — or more established but adaptable hit-makers like DeStefano, Shane McAnally, Luke Laird, Dann Huff, Joey Moi, Ross Copperman, busbee, and, notably, Jesse Frasure.
Frasure started out straddling both sides of the country and dance divide, DJing as Telemitry while working his way up the creative and business sides of the country-songwriting world under his own name. "I was trying to keep everything pretty separate on purpose because I loved a lot of different styles of music," he says, sitting in the office he occupies as the VP of Major Bob Music, a publishing company housed in a stately Victorian on Music Row. "I think there was a ton of intimidation. I was starting to pitch songs in country music, and I had this huge respect for the lyric writers and what was going on … You're quick to go, 'Oh, no. What I do is different. I go home and make tracks and work on pop and remixes and do the DJ stuff.' Little by little, it kind of started to merge." Frasure was hired to do a remix of Luke Bryan's goofy dance-floor call-out "Country Girl (Shake It for Me)" in 2011, and within a few years, Frasure found himself co-writing and producing successful one-offs for Florida Georgia Line, Billy Currington, Lauren Alaina, and other hit-hungry country acts.
Around the same time, Taylor Swift was not yet officially repositioning herself as a pop star, but she was certainly recording that way. Her 2012 album Red achieves varied textures ranging from dubstep to country ballad in large part because she worked with eight different co-producers, including pop powerhouses like Max Martin, Shellback, and Jeff Bhasker; Dann Huff, Nashville's king of arena-scale production; and Nathan Chapman, who'd steered her earlier albums. (Her label head Scott Borchetta went so far as to launch a country-and-pop-bridging joint-publishing venture with Dr. Luke the following year.) Keith Urban enlisted one more producer than Swift had — so nine total — in the making of 2013's Fuse, an album that supplanted his familiar guitar-powered country-pop sensibilities with a gleaming array of synth-meets-six-string grooves. The greenest of all the producers on Fuse was Zach Crowell, who started out making beats in middle Tennessee's underground hip-hop scene. With Sam Hunt and Matt Jenkins, Crowell co-wrote the song "Cop Car," building a bed of muffled, programmed drums beneath it. As it turned out, Urban wanted to record the song with Crowell's touch. "To this day, about every six months, I send Keith an email telling him thank you, because I have no idea why he let me, a person with zero credits, take the reins on what he was hoping to be a hit song," says Crowell.
The central role he played in Montevallo, Hunt's 2014 breakout debut, further beefed up Crowell's writing and production credits. He and Shane McAnally, who worked on Kacey Musgraves's landmark of low-key irreverence Same Trailer Different Park, helped the jock turned singer combine elements of country-pop and images of suffocated, small-town youth with brooding R&B in a way that nobody quite had before, which was part of the point. After that, Carrie Underwood coveted Crowell's sonic fingerprints for this year's Storyteller. Bringing him onboard for the beat-driven slow burn "Heartbeat," which they co-wrote, and another track — alongside contributions from Jay Joyce and her longtime producer Mark Bright — was a significant update to the template of inspirational power-balladry and revenge-stompers she'd established over the last decade. Flanked by different textures, the country-pop belter experimented with new inflections and notably expanded her tonal range.
"I was definitely terrified to work with [Underwood and her team], just because of the royalty that she is," Crowell says. "For them to call me, it's just strange … But I've gotta give them credit: They're so smart to be aware that she has to stay ahead of herself and ahead of the curve. I've gotta give them huge props for thinking outside the box, because they've done things a certain way — for good reason, and successfully — for ten years now."
Thomas Rhett relied just as heavily on an expanded stable of skilled collaborators to tweak his musical identity this year. His first couple of hits had not quite fairly gotten him lumped in with other flirtatious, young country dudes copping the cadences of hip-hop where they could. But several tracks on his 2015 sophomore album Tangled Up went all in on R&B and made him come off as a charismatic lover-man who doesn't take himself too seriously, echoing the suave soul-pop posturing of Justin Timberlake (even before he teamed up with Chris Stapleton at the CMAs). "We really wanted to go out on a limb on a bunch of the record and just make it sound way different than anything we've ever done before, and a lot of that started with the producers," says Rhett, using the kind of teamspeak common among country stars, a habitually credit-sharing bunch. "Dann Huff and Jesse Frasure did a lot of the record. A couple guys did certain songs. So we just had fully fresh ears on this album, wrote with a bunch of different people, whether they were in the country world or the pop world."
The big single that set the tone for Rhett's reinvention was "Crash and Burn," a snappy throwback R&B tune and one of Frasure's hybrid creations: He started it on his computer, then he and Huff completed it with live musicians in the studio. These days, Frasure rarely walks into a writing appointment without a few track productions in the works. "If they like 'em, we'll write to 'em," he says. "If they don't, we'll start something from scratch. But I like to have something prepared. I like to have hooks and lyric ideas prepared as well, but I enjoy making tracks — it's my guitar. I can sit here and play a little bit of guitar, but it's easier for me to go, 'I want the chorus to do this, and I want it to sound like that.'"
Other leading country writer-producers, like DeStefano, bring multi-instrumentalist chops to the role and layer their playing and programming as they write. "Ninety-nine percent of the time, I'll create the track on the spot," he says. "We'll start writing the song, and I'll go down the road of creating the track in the moment … [The Brett Eldredge song] "Don't Ya" is an example. At the end of the [writing session], that record was done. It was basically what you hear on the radio, aside from some mix tweaks. I just love that workflow 'cause by the end of the day, you get to crank it up and everybody in the room is excited about it."
Country's creative landscape is changing so much, it's becoming a lot more difficult to break in as a professional songwriter if you don't have production skills. Alysa Vanderheym graduated with a commercial songwriting degree in December 2014, saw the amount of work going to folks like Frasure, Crowell, DeStefano, Luke Laird, and Jimmy Robbins, and decided to spend the next six months holed up with Pro Tools. "I had a couple different producer friends that encouraged me," says Vanderheym. "They gave me some samples, told me what gear to get, basically … They kind of helped me, but it was mostly me just in my room for hours. I spent two weeks on the first song that I ever put on my SoundCloud with my own production on it."
The goal was to fashion herself into the new breed of Nashville music-maker: the "track person." "That's a term that's going around a lot," she says with a wary laugh. "A lot of people don't really appreciate that, because it makes them sound like they don't write." Signed to a writing-production deal by Frasure — in a field in which men vastly outnumber women — Vanderheym aspires to apply Timbaland-esque techniques in Nashville as she works toward her first pro credits. (Timbo himself is threatening to come to town and cut a country album with Timberlake.) "I love his beats," she says. "It's not beat-driven here yet. It's all about the song, which is great, but to combine that with an awesome beat would be so cool."
Things inevitably grow complicated as approaches to country production inch closer to the way things are done in other genres. Incorporating producer-driven sensibilities can easily obscure some of the more obvious signifiers of countriness. But country's lyrics perform such important roles — conveying heartfelt sentiments with artful clarity and hammy wit, affirming broadly shared experiences and concerns, situating the singer on the underdog side of class-based elitism — that it's hard to imagine them completely taking a backseat. As malleable as the boundary lines are at the moment, Frasure suggests, "the country genre is [defined by] 'Americana' subject matter; that's the common thread right now."
In other words, country audiences aren't as likely to connect with a recording that feels like a vocal performance superimposed onto a studio guru's vision. The production needs to seem like it's somehow amplifying the artist's ambitions and persona. Frasure is sensitive to that priority, and he's not the only one; a deferential spirit of collaboration is the professional currency of the modern country music biz. "The song and the artist are the vehicle — not my drumbeats," he emphasizes. "I want to have a stamp; I want to have a thing. But it can't trump who the artist is."
As for the idea of putting his name on a track, voice-over-style? "Mark my words," he says, "that will never happen in my music."