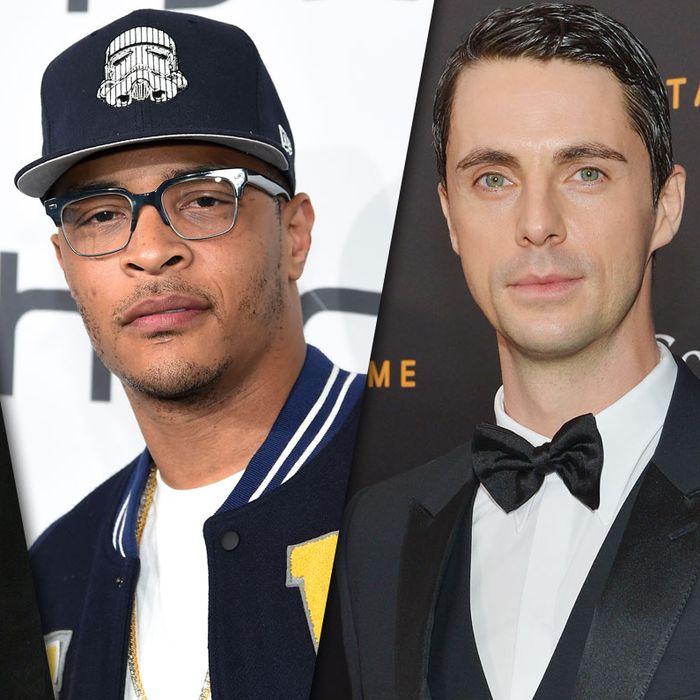 Mekhi Pfifer, T.I., and Matthew Goode.
Photo: Getty Images
A&E's upcoming Roots remake is no movie, but it still has Mekhi Phifer: The 8 Mile star is part of a new batch of actors who've signed on for supporting roles in the upcoming mini-series, which already cast Malachi Kirby, Anika Noni Rose, and Regé-Jean Page as its leads back in September. Fortunately, 200 years of oppression provide more than enough meaty roles for working actors. Here are all the names who will be competing with Anna Paquin and Jonathan Rhys-Meyers for those sweet supporting-actor-in-a-mini-series Emmys:
• Phifer will be playing Jerusalem, a silent slave who is holding a secret.
• T.I. will appear in the final episode as Cyrus, a slave who fights for the Union in the Civil War.
• James Purefoy of Rome and The Following will play John Waller, the Virginia plantation owner who buys Kunta Kinte (Kirby).
• The Good Wife's Matthew Goode will play Purefoy's "charming and well-educated" brother, Dr. William Waller.
• Disney star G Hannelius will play Purefoy's daughter Missy, who antagonizes Kizzy (Rose).
• Lane Garrison, who starred in A&E's Bonnie and Clyde remake, will play Pfifer's owner Frederick Murray, who fights for the Confederacy in the Civil War.
• Emayatzy Corinealdi (Miles Ahead) will appear as Kinte's wife, Belle.
We think we speak for everyone when we say this Roots (cast) is on fire.