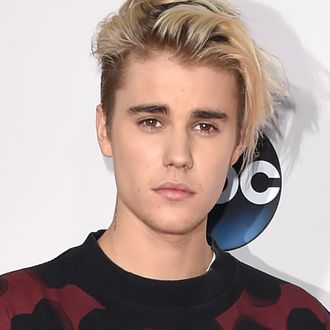 Justin Bieber.
Photo: Jason Merritt/2015 Getty Images
In a letter sent to Def Jam and Universal Music Group execs Monday, San Francisco's city attorney decried the label and publisher for alleged guerrilla-marketing tactics tied to Justin Bieber's Purpose. The censure doesn't refer to the Nas song mural installed in NorCal, but rather to a slew of permanently stenciled sidewalk-graffiti ads that read "Justin Bieber Purpose #Nov 13." (The tags have survived rainstorms and persisted for nearly two months now, because they were applied with spray paint instead of sidewalk chalk.) "This prohibited marketing practice illegally exploits our City's walkable neighborhoods and robust tourism; intentionally creates visual distractions that pose risks to pedestrians on busy rights of way; and irresponsibly tells our youth that like-minded lawlessness and contempt for public property are condoned and encouraged by its beneficiaries," Dennis Herrera wrote, "including Mr. Bieber and the record labels that produce and promote him."
A release from the city, instructively titled "It's too late now to say sorry," called the ads actionable vandalism, because some citizens have complained about being the singer's billboard and they're tired of corporations taking advantage of weak civil penalties that don't curtail illegal promotion. Herrera has promised to hold the people who participated in the campaign responsible and is requesting Def Jam's help in identifying the taggers. The city's letter ultimately asks for "a proposal to resolve the full scope of wrongdoing and avoid civil litigation." If Herrera's requests are not taken seriously, however, the city attorney's office could sue the responsible parties for court-ordered injunctions, penalties of roughly $2,500 for each ad, and restitution, according to the release. Bieber and Co. have yet to comment, but to read more about the city's call for a guerrilla-marketing crackdown, head here.