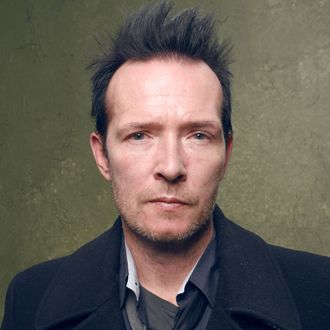 Scott Weiland.
Photo: Larry Busacca/2015 Getty Images
Scott Weiland — the former lead singer of Stone Temple Pilots and Velvet Revolver, among other rock bands, who was known for his chameleonic voice and engaging, at times erratic onstage persona — has died. He was 48. Weiland's wife, Jamie, and manager, Tom Vitorino, both confirmed the news Thursday night with the Los Angeles Times; a Facebook account in the musician's name (embedded below) also noted that he "passed away in his sleep," but the exact cause has not been released. The Grammy-winning artist was supposed to perform Thursday in Minnesota with his latest group, Scott Weiland and the Wildabouts, but sources told TMZ the singer was found unresponsive on his tour bus shortly before the concert.
Reports of Weiland's death began circulating late Thursday evening when Jane's Addiction guitarist Dave Navarro expressed his sympathy via Twitter. "Just learned our friend Scott Weiland has died," he wrote in a now-deleted tweet. "So gutted, I am thinking of his family tonight."
The California-born singer's rise to fame began with Stone Temple Pilots — a band that he formed in the '80s with the DeLeo brothers, and that would become one of the most commercially successful rock fixtures of the '90s and early '00s — and continued with the supergroup Velvet Revolver, alongside Guns N' Roses's Slash, Duff McKagan, and Matt Sorum. As one of rock's premier contemporary voices, Weiland helped sell more than 44 million records cumulatively for the two bands, and nabbed two Grammys (both for Best Hard Rock Performance: "Plush" in 1994, and "Slither" in 2005). Over the course of a career that spanned roughly three decades, Weiland also had his hand in a slew of other side and solo projects, which included a holiday album and a tell-all memoir, Not Dead & Not for Sale.
As successful as Weiland was, the musician also battled substance-abuse problems, which contributed to hurdles within the hiatus-prone STP as well as his personal life. The iconic front man was arrested when he was found with crack and heroin in 1995, and again for two DUI incidents in 2003 and 2007, according to reports. In 1998, he pleaded guilty to possession of heroin, a drug that took him "to where I'd always dreamed of going," his memoir says, according to Spin. "I can't name the place, but I can say that I was undisturbed and unafraid, a free-floating man in a space without demons and doubts."
Of his latest music, Weiland had said he was undergoing a musical rebirth. "I'd like for Stone Temple Pilots and Velvet Revolver fans to be attracted to this as well as a whole new fan base," reads a statement on his Facebook, referencing the Wildabouts' Blaster. "It feels serendipitous because it's a rock record, but it's also fresh." (You can learn more about Weiland and the Wildabouts here.)
The Hennepin County sheriff's office and the Hennepin County medical examiner's office are investigating the cause of Weiland's death, according to Billboard, and more details should be released later on Friday. He's survived by his wife and his two children, Noah and Lucy, from a previous marriage.
This post has been updated throughout.