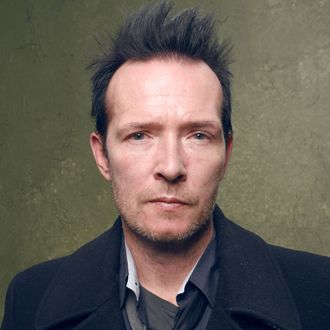 Weiland's funeral was held in Los Angeles on December 10.
Photo: Larry Busacca/2015 Getty Images
In a press release, the Hennepin County Medical Examiner's Office revealed that former Stone Temple Pilots and Velvet Revolver front man Scott Weiland died of an accidental drug overdose due to a mix of cocaine, ethanol, and methylenedioxyamphetamine (MDA). The office also noted the degenerative effects of atherosclerotic and cardiovascular disease, a history of asthma, and multi-substance dependence on his health.
Weiland died in his sleep in Bloomington, Minnesota, on December 3 while on tour with his new backing band, the Wildabouts. He was 48. The day after his death, one of his bandmates on tour, Tommy Black, was arrested for cocaine possession. Black was released from jail a day later.
In the wake of his death, Weiland's complicated life has been memorialized in tributes by his bandmates and former colleagues and, most poignantly, his family. His ex-wife Mary Forsberg Weiland penned a letter asking people not to glorify his death, which she said was the endpoint of his "inability to separate himself from negative people and bad choices." "The truth is, like so many other kids, they lost their father years ago," she wrote. "What they truly lost on December 3rd was hope."