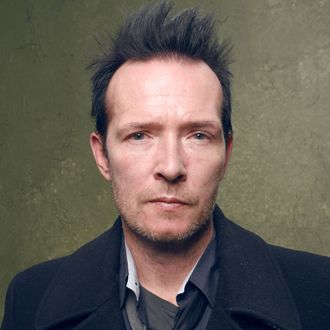 Scott Weiland.
Photo: Larry Busacca/2015 Getty Images
Mary Forsberg Weiland, the late Scott Weiland's second wife, has published a heart-wrenching letter reflecting on the famed front man's untimely death. The note focuses largely on Weiland's role as the father of her children, and the familial disconnect she says was created because of his many illnesses and artistic successes. "The truth is, like so many other kids, they lost their father years ago," she writes, via Rolling Stone. "What they truly lost on December 3rd was hope." Continuing with similar candor, Mary discusses her frustration with the music industry and some of the low points she shared with Scott, but ultimately asks readers to acknowledge children who are affected by such tragedies.
Below is an excerpt:
This is the final step in our long goodbye to Scott. Even though I felt we had no other choice, maybe we never should have let him go. Or maybe these last few years of separation were his parting gift to us – the only way he could think to soften what he knew would one day crush us deep into our souls. Over the last few years, I could hear his sadness and confusion when he'd call me late into the night, often crying about his inability to separate himself from negative people and bad choices. I won't say he can rest now, or that he's in a better place. He belongs with his children barbecuing in the backyard and waiting for a Notre Dame game to come on. We are angry and sad about this loss, but we are most devastated that he chose to give up.

Noah and Lucy never sought perfection from their dad. They just kept hoping for a little effort. If you're a parent not giving your best effort, all anyone asks is that you try just a little harder and don't give up. Progress, not perfection, is what your children are praying for. Our hope for Scott has died, but there is still hope for others. Let's choose to make this the first time we don't glorify this tragedy with talk of rock and roll and the demons that, by the way, don't have to come with it. Skip the depressing T-shirt with 1967-2015 on it — use the money to take a kid to a ballgame or out for ice cream.
You can read the rest of the letter, which was written with the help of their children, in full, here.