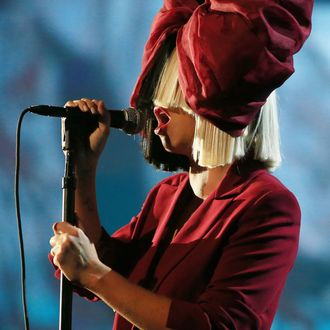 Thanks, Sia.
Photo: Christopher Polk/Getty Images
Sia's new album is filled with songs rejected by pop's elite, and you can bet there's more where that came from. In a new interview with Rolling Stone, your favorite wig-wearing singer is sharing all her songwriting secrets, even the embarrassing ones. "I think that the stuff I write for pop music is terribly, terribly cheesy," she admits of hits like "Titanium" and "Wild Ones," but that's she also just probably being a "jaded and cynical asshole" about it. And guess which megastar she's been writing possibly-cheesy songs for lately? "I didn't send as much to Beyoncé, though I do know she's working on something." Something! What could it be? A new album, perhaps? Or maybe promo songs for Bey's new Topshop line? (Hey, she did one for H&M.) We likely won't have that answer until she stops the world again, but we do know that Rihanna's new album, however overdue, has been long in the works. "Mostly we've been pitching on Rihanna for the last couple years because she's been looking for a couple years," Sia says. "Well, it feels like a couple years. It might be one year. They're always looking for that first single."
The only problem is Sia doesn't quite know what'll become of those songs because Rihanna and Kanye (who's executive-producing Rih's album) tend to skip their writing sessions: "They'll entice me into a session by saying, 'Rihanna will definitely be there' or 'Kanye will definitely be there,' but it's hilarious because I turn up and, almost always, they never come. So I went into the studio to write for Rihanna with Kanye and neither of them showed up … There were notes from Kanye, and I can't even remember what they were."
Things were much different working with Adele, whom Sia says made her her "bitch," just like Sia prefers. "I remember the day after I wrote with Adele. I wrote her saying, 'I'm just writing because I want to make sure I wasn't too overly dominant. I'm feeling a bit insecure that it was a bit annoying working with me as opposed to satisfying,'" she says, "Then she wrote me back and was like, 'What are you talking about?" [Laughs] I was like 'Riiight, OK!'"

One not-so-great writing experience with another artist? Katy Perry. "She's also quite dominant, and she's extremely analytical. I actually quit within the first hour of our first session. I was like, 'Can we both agree this doesn't work? Like our whole songwriting dynamic?' And she was like, 'I love it. It's like a puzzle to me. It's like a crossword.' And I was like, 'But this is boring for me. The analysis is totally boring for me. It feels like the enemy of creativity.'" The whole interview's worth a read if you're a music nerd into the pop process, or you just want a sip of Sia's spilled tea.