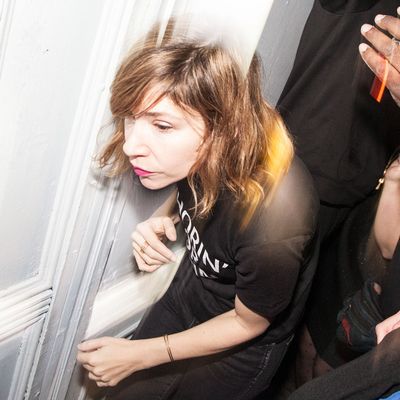 From top left, as they make their way to Market Hotel's tiny stage: Sleater-Kinney's Carrie Brownstein, Corin Tucker, and Janet Weiss, plus touring member Katie Harkin.
Photo: Konstantin Sergeyev
Janet Weiss is in a precarious position. Her drum set is wedged in the corner of New York's weirdest room for playing music. The windows directly behind her give a stunning view of the elevated Myrtle-Broadway J/M/Z platform here in Brooklyn's Bushwick neighborhood, where Sleater-Kinney fans have already gathered to hear the band's sound check. Butt up against the stage, directly in front of rock's best working drummer, stands a thick white pillar, which means she can't see the sound guy standing 30 feet back. This ain't gonna work for "fucking Janet Weiss," as some of her devotees' homemade shirts say, so the makeshift sound booth will have to scoot a few feet to her right.
It's comforting to know that the musicians have the same sight-line woes as the patrons at Market Hotel, the not-so-legal, short-lived but infamous venue that hosted shows (and live-ins) from 2008 to 2010. After promoter Todd P's six-year, six-digit struggle to go above board, the space had its soft reopening Wednesday night with one of the smallest Sleater-Kinney shows in a decade and a half. Sure, the Olympia, Washington–bred punk trio was broken up for about a decade of that, but still: It was one of those shows you know you'll be talking about for years.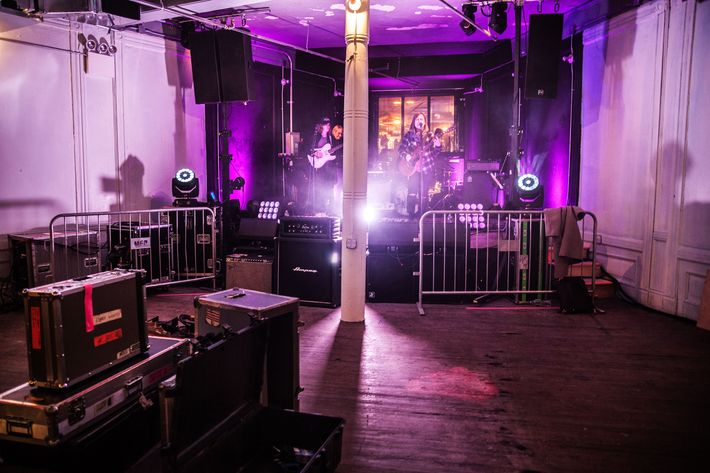 At the Terminal 5 shows Sleater-Kinney played back in February, one could feel a slight energy divide between the old favorites and the songs off No Cities to Love, released a month earlier, but last night, recent highlights like "Price Tag" and "Surface Envy" felt as comfortable in the set as Sleater-Kinney's most indelible songs, from The Hot Rock's "Get Up" to All Hands on the Bad Ones' "Youth Decay" to The Woods' "Entertain," the latter slowed down to emphasize the irony of its raw sexual power. At around 90 minutes, the show was long, but tight; the set list seemed tailor-made to make S-K diehards swoon in total inspiration, after four nights in a row spent doing just that.
The Market Hotel gig marked the end of a weeklong New York victory lap for Sleater-Kinney, who celebrated their greatest year to date as a band with the kind of reunion that is so rare in rock: They're bigger — and better — than ever. During their original run from 1994 to 2006, Sleater-Kinney were a DIY band and then a critics' band (Greil Marcus once called them "the greatest rock band in America"), but Carrie Brownstein's increased comedic profile via Portlandia has brought more of a general cultural awareness to S-K's feminist anthems, at a time when they were inactive, no less. To see wider recognition go to artists who really deserve it — both for years put into their craft and for consistently standing for something with their evolving commentary on politics and society — is satisfying to begin with. Paired with the setting, it was the sort of loud show that can shake you to your core, in the process sloughing off some of the bad stuff. (Watching prototypical rock dudes watch Carrie Brownstein play guitar better than they ever will, for one thing, is wildly entertaining.)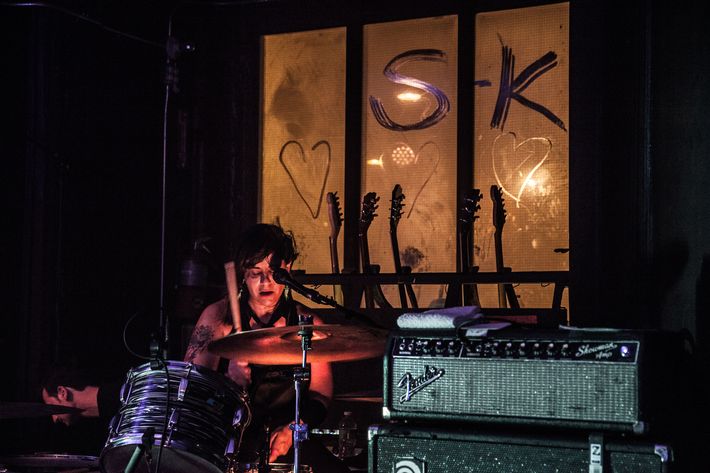 Market Hotel still shows glimpses of the shithole it once was, mostly in the sense that it's a work in progress. The bathrooms are surprisingly clean, considering what they used to look like, even if there are signs excusing the "temporary privacy solution" of a half-finished carpentry job. As Weiss, Brownstein, singer/guitarist Corin Tucker, and the week's special guest Fred Armisen sound-check the B-52s' "Rock Lobster," a young employee sweeps bits of construction off the floor. (The same floor would be bouncing hours later, during a truly glorious rendition of "Words and Guitar.") At one point, it looks like the band have turned on a fog machine, but it's actually just dust. Coats are on and windows are open, which means that the fans who started lining up downstairs before noon can hear everything. Which is good because they're probably not getting in. This place holds a few hundred at best — a steep decline from the four midsize New York venues S-K played the four preceding nights (Kings Theatre, Terminal 5, Irving Plaza, and Music Hall of Williamsburg).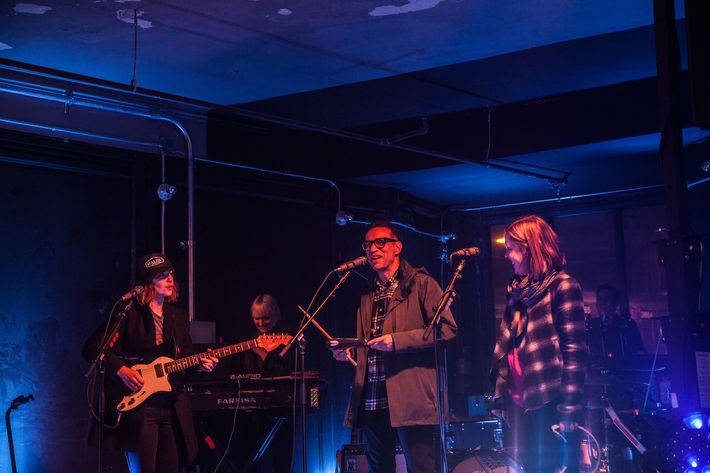 The prevailing mood at sound check is low-energy, especially Brownstein, who's sick. When she shows up onstage later that night in a "Whorin' for Corin" T-shirt she had made so Tucker wouldn't feel left out about those homemade Weiss shirts, Brownstein is on. By the second song, No Cities to Love single "Bury Our Friends," she'd already started with the Pete Townshend windmill guitar-strumming. By "Rock Lobster" in the encore, she's perched atop her amp, playing out toward the subway platform, where trains filter in and out every few minutes. Many vantage points in the room afford the surreal experience of watching a band tear through a punishing chorus at the exact moment when a train comes hurtling by; seeing this makes you understand why someone would spend six years trying to make this place work, legally speaking.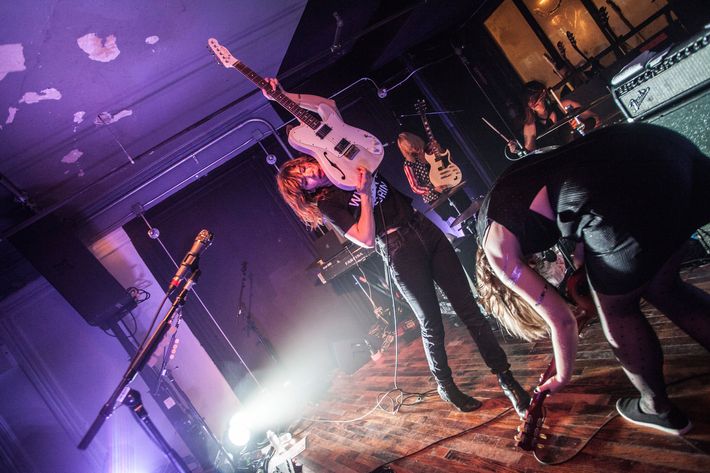 Of course, there's the problem of those pillars. Tucker knows the make and model well — they remind her of the modest spaces her band used to play in the '90s in her native Pacific Northwest. Loving an ugly venue is a rite of passage for a certain kind of music fan — one who is likely no stranger to the music of Sleater-Kinney — but there's some other strand of defiance at play here. Toward the end of the show, Tucker* explains that when S-K used to play rooms like this, they felt they had to prove themselves. This year, they came back, but they never lost that underdog feeling. They were made to feel like outliers after graduating to a national stage in the late '90s — you know, the novelty of "the girl band" they'd poke fun at on "You're No Rock 'n' Roll Fun" — but the juxtaposition was enthralling, to women-rock fans, at least, because Sleater-Kinney had somehow always sounded like the biggest band in the world. This aesthetic is as much about them wanting to really make noise as it is their fascination with (and subversion of) classic-rock mythology. They're as close to mainstream success now as they've ever been, but there's a sense of staying true to who they were that prevails; Weiss, most vocally, has shared her opposition to playing big festivals and allowing their songs to be used in commercials. The pillars are just one small, familiar cross to bear.
*An earlier version noted that Carrie, not Corin, said this.