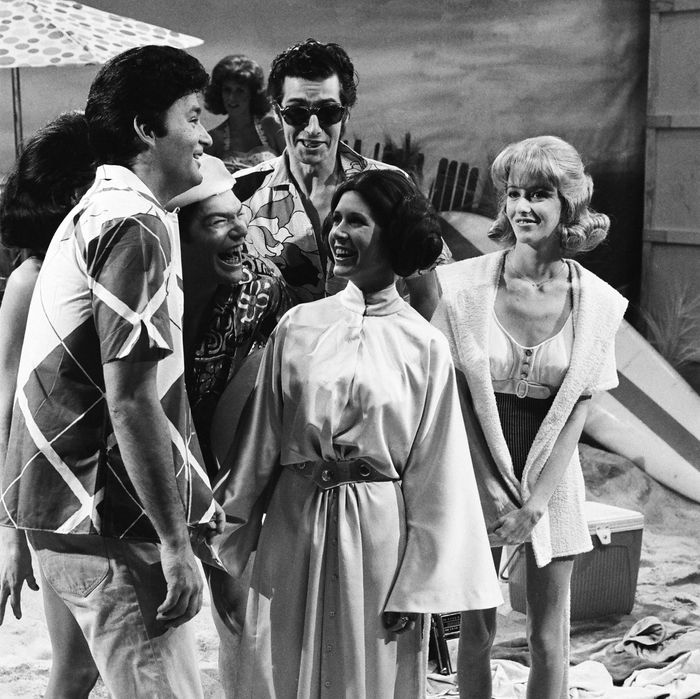 Bill Murray as Frankie Avalon, Tom Davis as surfer, Carrie Fisher as Princess Leia, Laraine Newman as Sandie during "Beach Blanket Bimbo from Outer Space."
Photo: Al Levine/NBC/NBCU Photo Bank via Getty Images
This post was originally published in December 2015, as part of Vulture's Star Wars Countdown. We have updated it to include SNL's subsequent Star Wars sketches.
The original Star Wars film hit theaters just a few days after Saturday Night Live wrapped its second season in 1977, and it became the highest-grossing film of all time the following year. From first lampooning it with Bill Murray's lounge singer in season 3 to getting the cast of The Force Awakens to parody themselves in season 41, the show and films aged like siblings, celebrating anniversaries and reunions, enduring the highs of acclaim and forgettable lows, all the while remaining cultural institutions for generations of fans. Working with Joel Navaroli of snlarchives.net, we collected 16 sketches that represent the shared history of Star Wars and Saturday Night Live.
"Nick Winters at the Powder Room," January 28, 1978
Toward the end of lounge singer Nick Winters's second sketch, Bill Murray's beloved crooner character launches into his version of John Williams's Star Wars theme. The song's opening lines, "Star Wars / Nothing but Star Wars / Gimme those Star Wars / Don't let them end!" remain the most iconic part of sketch, but Murray's scream at seeing pianist Paul Shaffer dressed in a Darth Vader mask and fist-pump to celebrate his seventh winter at the Powder Room are equally terrific. Coincidentally, Bill was one of the many actors considered for the role of Han Solo before Harrison Ford got the part.
"Carrie Fisher Monologue/Beach Blanket Bimbo From Outer Space," November 18, 1978
The night after CBS aired the infamous Star Wars Holiday Special, Fisher took to the 30 Rock stage dressed as Princess Leia, telling a drawn-out joke about Jabba the Hut at the urging of Obi-Wan Kenobi, played by Dan Aykroyd. The monologue then switches to a sketch called "Beach Blanket Bimbo From Outer Space" that imagines Leia in a '50s surf movie trying to fit in with the likes of Frankie Avalon, Vincent Price, and Chubby Checker.
"Luke Perry Monologue," February 16, 1993
Nearly 15 years after Fisher's appearance, SNL revived the Obi-Wan monologue concept for 90210 heartthrob Luke Perry, this time with Phil Hartman playing the Jedi master. Why? "It works for anyone named Luke," Obi-Wan says about the Force, though his best advice comes for a heckler: "Kick his ass and take his wallet."
"Star Wars 20th Anniversary Home Video," January 11, 1997
It was a pretty big deal when George Lucas decided to use alternate takes and then-current CGI to re-edit the original trilogy for its 20th anniversary. All the hype made the original Star Wars a prime target for one of SNL's trademark "let's do a bunch of celebrity impressions" sketches, using the premise of audition outtakes for the first movie. There's Norm Macdonald as the disinterested Burt Reynolds trying out for Darth Vader, Darrell Hammond as a whiny Richard Dreyfuss reading as C-3PO, but the best of all is host Kevin Spacey doing a dead-on Christopher Walken playing Han Solo in all his oddly rhythmic, monotone way.
"Shop at Home Network: Mark Hamill," March 15, 1997
What's better than a "Chewbacca if he played for the Brewers" baseball card? Owning Luke Skywalker himself, actor Mark Hamill. Kidnapped and handcuffed by Jim Breuer, Hamill is on the selling block for just $80,000, and after reciting movie lines he never said onscreen, he gets sold to an old, grizzled Hollywood friend.
Jimmy Fallon's "Weekend Update" Segment, May 8, 1999
In the penultimate episode of his first season on the show, Jimmy Fallon appeared on "Weekend Update" to perform an original song, à la Adam Sandler in previous '90s segments, about the upcoming Star Wars Episode I: The Phantom Menace. Typically goofy, the comic sings about his anticipation, Yoda, and Samuel L. Jackson's Mace Windu, set to the tunes of Sugar Ray's "Every Morning," Eminem's "My Name Is," and "Livin' La Vida Loca" by Ricky Martin, that evening's musical guest.
"Billy Dee Williams" on "Weekend Update," May 15, 1999
In the season-24 finale, Tim Meadows appeared on "Weekend Update" as Billy Dee Williams, who played Lando Calrissian in the first trilogy. Here, he reviews The Phantom Menace, complaining that he's not in it, drinking a Colt 45 and bragging about his "darksaber" – basically, nerd humor meets the Ladies Man.
"HBO First Look: Star Wars," January 12, 2002
By the time this season-25 sketch aired, Episode II: Attack of the Clones was in production, with many fans worrying it would feature more of the same problems that led to The Phantom Menace's mixed reviews. In this making-of parody, George Lucas (Darrell Hammond) tries to quash those fears, insisting that it'll be totally great that the already-dated Alf, Mayor McCheese, and Monica Lewinsky will be featured in certain scenes, and the lead Jedis would be played by 'N Sync. Best of all is Fallon donning a curly blond wig to play future BFF Justin Timberlake.
"Overdressed for the Theater," May 21, 2005
For the 30th-season's finale, an 18-year-old Lindsay Lohan hosted for the second time, promoting Herbie: Fully Loaded. In this sketch, Lohan, Seth Meyers, and a group of geek friends show up in costumes for a showing of Episode III: Revenge of the Sith, but when their Fandango tickets get lost, they instead end up seeing Monster-in-Law. It's a trip seeing Meyers in a sketch and Rob Riggle as a featured player, but the best laughs come from Kenan Thompson and Finesse Mitchell.
"Natalie Portman Monologue," March 4, 2006
Promoting V for Vendetta with her short hair, Portman took questions from Andy Samberg and Jason Sudeikis, gamely rattling off answers about the prequel trilogy that prove (a) she can easily handle rapid-fire dialogue, and (b) at least a few SNL writers are extremely well-versed in the Star Wars Expanded Universe.
"Doctor's Office," March 29, 2014
When getting a check-up, it's always a good idea to go the extra mile, even if that means having your physician check if you have a Darth Vader action figure stuck in your butt. What starts as a funny, if thin, bit between patient (Louis C.K.) and doctor (Mike O'Brien) gets funnier as more of the clinic's staff pop in to make sure their butts are also free of Sith lords. It really is better to know.
"Marvel," September 27, 2014
Flying high off the success of Guardians of the Galaxy, Marvel Comics bets you'll go see any movie they put out, even the heroes are bus riders, shopping carts, fancy ghosts and Pam (Aidy Bryant). The big payoff is host Chris Pratt strutting down a spaceship corridor as Princess Leia, because Marvel's Star Wars is obviously going to be better than the J.J. Abrams version.
"Star Wars: The Force Awakens Teaser," December 6, 2014
Bad hearing, limited mobility, the inability to use modern technology – these are just some of the issues our heroes face 30-plus years after the original films.
"Star Wars Auditions," November 21, 2015
On one hand, redoing the '97 Spacey-led auditions sketch with J.J. Abrams and a few members of the Force Awakens feels like an extended commercial, but on the other, the acting – with surprise guest spots from Jon Hamm and Emma Stone, who always bring it as hosts – made this a winner. Hamm, Bobby Moynihan, and John Boyega are particularly great, but Taran Killam's David Beckham drop-kicking the adorable BB-8 droid nails it, pun very much intended.
"Star Wars Toy Collection," December 12, 2015
What's the best way to enjoy the new, movie-accurate Force Awakens action figures? If you're a 30-something Star Wars geek, the answer is, "Leave them in the box and never touch them!" That's according to Bobby Moynihan, Taran Killam and Kyle Mooney, who play adult collectors who prize mint condition toys over actually playing with them. What makes the sketch work is you know it's grounded in the reality of collectibles, even if it feeds on the stereotypes of them being socially inept. The best/saddest moment is when a kid asks Killam, "Does your wife like toys, too?" only for Taran to stare off, reconsidering his life choices.
"Undercover Boss: Starkiller Base," January 16, 2016
What must life be like for the anonymous henchmen of the Star Wars universe? Besides the very real danger of having their workplace blown up by a Rebel pilot (someone call OSHA about those exhaust ports), they've also got to deal with their bosses being psychotic jerks in thrall to Dark Side. Adam Driver, hosting only a few weeks after Force Awakens' debut, explores this issue with an Undercover Boss parody that sees Kylo Ren disguise himself as a lowly radar technician — with deadly results.
(Additional reporting by Nate Jones)