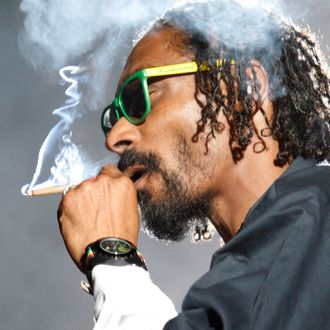 Snoop Dogg.
Photo: DAVID MCNEW/Corbis
Noted weed fan Snoop Dogg was mass-gifted tons of the green stuff by Portland's pot community before his Tuesday night concert there, according to The Oregonian. A call for donations began on Facebook, with what sounded like the equivalent of a fan-led Kickstarter raising funds in the form of flower. The good deed reportedly yielded roughly $5,000 in bud, edibles, and topical products to properly equip Snoop and his traveling entourage.
"It was remarkably fast and honestly, the feedback has been tremendous as far as people bringing me a lot more than I expected, people showing up with 2 ounces of their finest flower or 15 of their edibles," writer and cannabis source Joshua Jardine Taylor told the newspaper. (Funding goal accomplished!) He noted that at least two dozen companies had offered their finest goods, which means, according to Oregon law, Snoop's goody bag was too big to be legal.
No word yet on what actually panned out, but Taylor said this was "the largest gift that I have ever presented to anyone." Which may or may not explain why Snoop was like, OMG, thank you so much:
Keep Portland generous.