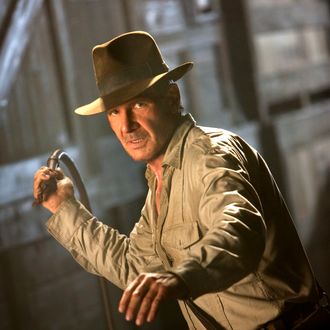 Somewhere, out there, beyond the horizon, an Indiana Jones movie is coming for us. The cast, release date, and script are all as yet undetermined, but this much we know: If there is a character named "Indiana Jones" in the film, only one actor will play the part. In an interview with Screen International, Steven Spielberg said that he has no intention of recasting the iconic role. "It's certainly not my intention to ever have another actor step into his shows in the way there have been many actors that have played Spider-Man or Batman. There is only going to be one actor playing Indiana Jones and that's Harrison Ford." Sorry, Chris Pratt. Sorry, Bradley Cooper. Sorry, horde of Hollywood dudes auditioning for Han Solo.
Speculation about the planned sequel, fueled in part by earlier comments from producer Frank Marshall, has led many to believe that it will center on a younger star as a new character — don't worry, Crystal Skull viewers, Shia LaBoeuf probably isn't coming back. But Spielberg makes it sound like Indy will still be the heart of the project. When asked why he wanted to return to the franchise, the veteran director channelled Up by saying, "There are more adventures out there than films … So as long as there's more adventures out there, I've got a bullwhip, a fedora, a leather jacket and a man on a horse who knows how to get the job done."
Here's to surviving the Star Wars press tour, Harrison, because you've got a whole new franchise rolling toward you like a boulder.