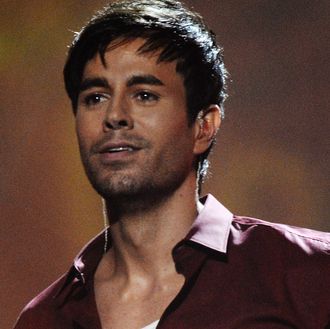 Enrique Iglesias.
Photo: Samir Hussein/2014 Getty Images
Sri Lanka's president is outraged that last week's Enrique Iglesias Sex and Love concert there was not as wholesome as expected, according to the BBC. Maithripala Sirisena reportedly said in a public meeting that organizers of the December 20 show, which took place in the capital of Colombo, should be whipped with the tails of stingrays, because women who attended removed their underwear, threw their bras at, and hugged and kissed the singer. "This is most uncivilized behavior that goes against our [conservative] culture," President Sirisena said Sunday, before referencing a form of medieval Sri Lankan punishment: "I don't advocate that these uncivilized women who removed their brassieres should be beaten with toxic stingray tails, but those who organized such an event should be."
That would be Live Events, the entertainment outfit owned by cricket legends Mahela Jayawardene and Kumar Sangakkara. The company conceded on Monday that the venue's security "failed alarmingly," and it apologized for any "negative experience(s)" at the one-hour concert, according to AFP. Sirisena also reportedly noted that tickets were too high (ranging from $35 to $350). "Although we know an apology or refund cannot fully satiate your disappointment, we wish to reiterate that we remain fully committed to all of you and our country," the company said. "A full and thorough internal inquiry is ongoing into all areas of concern." At the time of publication, Iglesias had not commented on the matter, but he did upload a couple of Instagrams noting that his fans are insane worldwide:
True. Iglesias resumes his world tour February 11 in Connecticut.