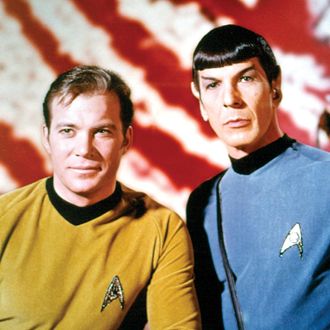 How will Kirk get out of this tangle?
Photo: Everett Collection
In what seems like a clear violation of the Prime Directive's command not to interfere in the affairs of less-developed worlds, CBS and Paramount have filed a lawsuit against an independent, fan-made Star Trek film, according to The Hollywood Reporter. The project, Axanar, which has received more than $1 million on Kickstarter and Indiegogo, proposes to create an unlicensed Star Trek movie, as well as an accompanying short film and preview (already on Youtube) with a "fully-professional crew." Though CBS and Paramount, which hold the rights to the long-running franchise, have often turned a blind eye to fan projects, it seems that Axanar has grown too big to ignore. In the lawsuit, filed in a California federal court on Friday, CBS and Paramount write, "The Axanar Works infringe Plantiffs' works by using innumerable copyrighted elements of Star Trek, including its settings, characters, species, and themes."
According to its creators, Axanar, which plans to tell the story of Garth of Izar, a Starfleet captain established as Captain Kirk's hero in the original series, had not previously received an endorsement from CBS, though in their brief discussions with the studio, the creators had been told that they could not make money off the project (they still plan not to, as reflected on their website). But Paramount and CBS are now seeking an injunction as well as damages for direct, contributory, and vicarious copyright infringement, citing claims that the films use elements from the Trek universe, including the "look and feel of the planet, the characters' costumes, their point ears and their distinctive hairstyles."
In an interview with The Hollywood Reporter, Axanar producer Alec Peters said, "We've certainly been prepared for this and we certainly will defend this lawsuit." Paramount and CBS, on the other hand, issued a joint statement, writing, "Star Trek is a treasured franchise in which CBS and Paramount continue to produce new original content for its large universe of fans. The producers of Axanar are making a Star Trek picture they describe themselves as a fully professional independent Star Trek film. Their activity clearly violates our Star Trek copyrights, which, of course, we will continue to vigorously protect." So basically, the message is: Live long and don't prosper.