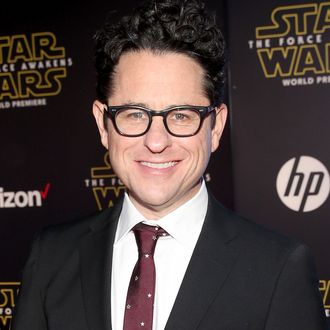 J.J. Abrams.
Photo: Jesse Grant/Getty Images
The Force Awakens' record-breaking body is nowhere near cold, but here we go, on to Episode VIII: In a recent interview with the Washington Post, actor Greg Grunberg said his friend and colleague J.J. Abrams really regrets staying on the next Star Wars only as an EP. The sentiment came in a rare admission after Abrams saw the script. "He read it and said something he never, ever says … 'It's so good, I wish I were making it.'" Grunberg told the Post's Comic Riffs. "He may have said something one time on Lost, with Damon [Lindelof], but I never hear him express regret like that."
The script to which Grunberg and Abrams are referring comes from Rian Johnson, whom you might be familiar with because of Brick, The Brothers Bloom, and Looper (and his directing on Breaking Bad's "Ozymandias"). New star Daisy Ridley has also called the script "very good," so let the hype awaken, and prep for May 2017 accordingly.