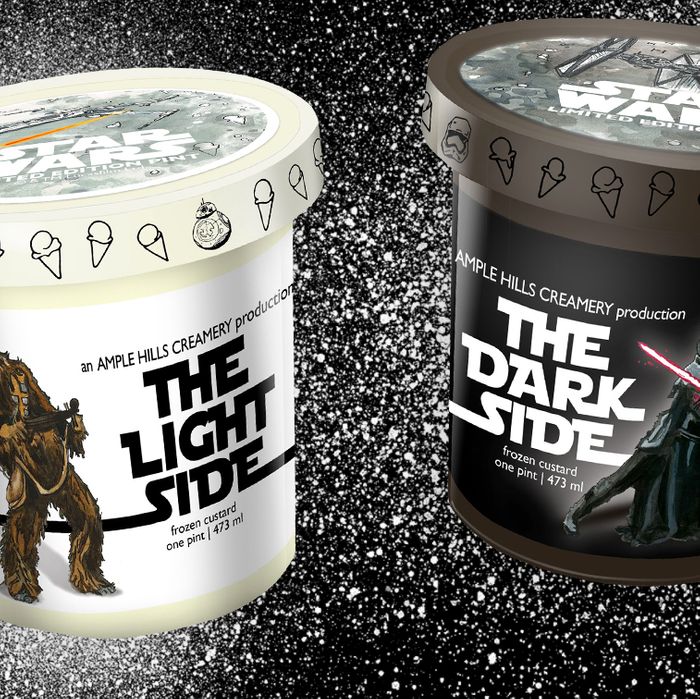 Illustration: Courtesy of Ample Hill
You may have heard that the Force will be awakening on December 18. To provide an outlet for our excitement, we've assembled another Vulture Advent Calendar — in this case, 25 Star Wars–themed stories, one per day until Christmas. None of them will involve midi-chlorians.
A couple weeks back, our Grubby friend Clint trumpeted the arrival of Star Wars–themed ice creams at Brooklyn's Ample Hills Creamery. That same day, we launched our Star Wars advent calendar (see bottom of post). It was immediately clear what had to happen next: We procured a pint of each flavor, Light Side and Dark Side, and convened the Vulture staff for a formal vote / ice-cream party to rank the desserts.
Relevant note: The two ice creams were kept together in a freezer, so any perceived differences in texture and creaminess cannot be attributed to unequal core temperatures.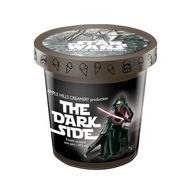 2. Dark Side (40 percent of vote)
The Dark Side flavor was, appropriately enough, the more conventionally tempting variety. As described by Ample Hills, it's "an ultra-dark chocolate ice cream with espresso fudge brownies, cocoa crispies, and white chocolate pearls." In practice, it's the strong chocolate flavor that dominates — and that alone was enough to win over more than one member of the voting body. "I preferred the Dark Side," said copy editor Lauren Leibowitz. "I am a big fan of chocolate, so I had a feeling this would be my pick. The white-chocolate pearls went undetected by my palate."
Sharing Leibowitz's enthusiasm were photo editor Maya Robinson ("Dark chocolate with chunks of brownie, easy choice!") and social media editor Tara Abell ("Dark Side had a nice bite with the chunks of brownies"), as well as New York Media's director of sponsorships Dan Jasper, who fortuitously walked into the office kitchen during deliberations. He acknowledged that the Light Side has some interesting "mix-ins," but nevertheless stayed true to his ice-cream allegiances. "The Dark had the richer, better-tasting custard," he explained. "I'm a chocolate man, so Dark wins by 1-2 lengths, easy."
But while the Dark Side is sure to please chocolate lovers, the muted nature of the complementary elements left many voters unimpressed. "All the ingredients in the Dark Side fell into a narrow range of taste tones," said associate editor Nate Jones. News editor Jesse Fox found the mix similarly underwhelming, saying, "The add-ins subtracted from the ice-cream base. It felt muddled and heavy." TV editor Gazelle Emami didn't mince words with her assessment, reporting, "The Dark Side is more dense, and the chocolate chunks have a nice espresso kick to them. But this is a chocolate without imagination."
The Dark Side even failed the sight test, as determined by associate editor Alex Jung, who is doing a diet story for the Cut that precluded him from being a full participant. "I tasted with my mind's stomach, evaluating based on spoon-feel, smell, and look," he said. "Going in, I thought the Dark Side would take this in a rout. I mean, chocolate. But the actual ice cream appears dense and unforgiving, with little of that creamy give." And if your ice cream doesn't have creamy give, you've got a tough row to hoe.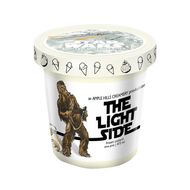 1. Light Side (60 percent of vote)
The Light Side — "a bright marshmallow ice cream with homemade crispie clusters, as well as a smattering of handmade cocoa crispies" — was the less familiar of the two tastes, with few voters knowing what to expect from the marshmallow flavor. That seemingly worked in its favor, as the surprises found beneath the lid delighted most testers. "Philosophically, I'm more of a Dark Side person," said senior editor Jillian Mapes. "But one of Ample Hills' best flavors is Snap, Mallow, Pop, and the Light Side contains enough of it to win me over."
Jones admitted to being similarly conflicted, even as he ultimately worked through it. "Much like Luke Skywalker, I found myself caught between the Dark Side and the Light. Fortunately, the Light Side prevailed," he explained. "The Light was filled with a variety of delicious tastes (marshmallow) and textures (crispies), including a little bit of the Dark Side (chocolate). Is this some kind of metaphor? Can true goodness only exist with a little bit of evil? Or am I overthinking this? (Probably.)"
As the vote totals above indicate, the Light Side wasn't without its detractors. Abell said that "the marshmallows in Light Side were off-putting," while Fox reported that "the flavor wasn't mind-blowing." Fox did, however, concede that it was the superior offering, saying, "In the world of crazy add-ins, you aspire for a 1+1=3 situation. While neither ice cream reached that level, at least with the Light Side the extra bits felt additive. The flavor had textural whimsy."
In the end, it was the Light Side's playful composition that gave it the edge. "What won me over were the Light Side's 'crispie clusters,' seemingly caramelized to give it a complex, crème-brulée flavor profile," said Emami. "The Light Side was a revelation."
The Vulture team's decision was at some point validated by a shadow agent, as Robinson discovered the next day when she returned to the fridge intending to photograph the pints:

Foreboding, yet telling.
Honorable Mention: A Dark Side–Light Side mix
Naturally it was Leibowitz, with her copy editor's attention to detail, who thought outside the pint and proposed a compromise: "The two flavors, both strong in their own unique ways," she noted, "did pair well on the same spoon."