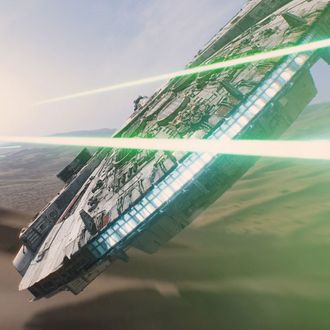 Star Wars: The Force Awakens.
Photo: Lucasfilm
The American Film Institute just released its annual list of the top ten American movies of the year, and — surprise! — Star Wars: The Force Awakens, which only screened for the first time on Monday, made the cut. AFI actually postponed its awards meeting so that jurors would have a chance to consider Star Wars for inclusion: When AFI changes their rules for you, you know who's in charge. If you haven't already seen the new Star Wars yet at some kind of premiere-screening free-popcorn-and-meet-Chewbacca event, you'd better get in line. Literally. Pack up your tent and extra iPhone batteries. And if you haven't seen Inside Out yet, well, why not? Do you even have a heart?
The full list of films is below.
The Big Short
Bridge of Spies
Carol
Inside Out
Mad Max: Fury Road
The Martian
Room
Spotlight
Straight Outta Compton.
Star Wars: The Force Awakens
AFI has also put together a list of its top ten television shows, too, because as we all know, we're at the dawning of the age of Peak TV. Here you go:
Aziz Ansari's Master of None
The Americans
Better Call Saul
Black-ish
Empire
Fargo
Game of Thrones
Homeland
Mr. Robot
UnREAL
Game of Thrones seems a little obvious, AFI. How about something like Black-ish? Oh, wait. It's up there. Okay, then what about Fargo? Oh, wait. Okay, sorry. You're pretty good at this. We'll back off.