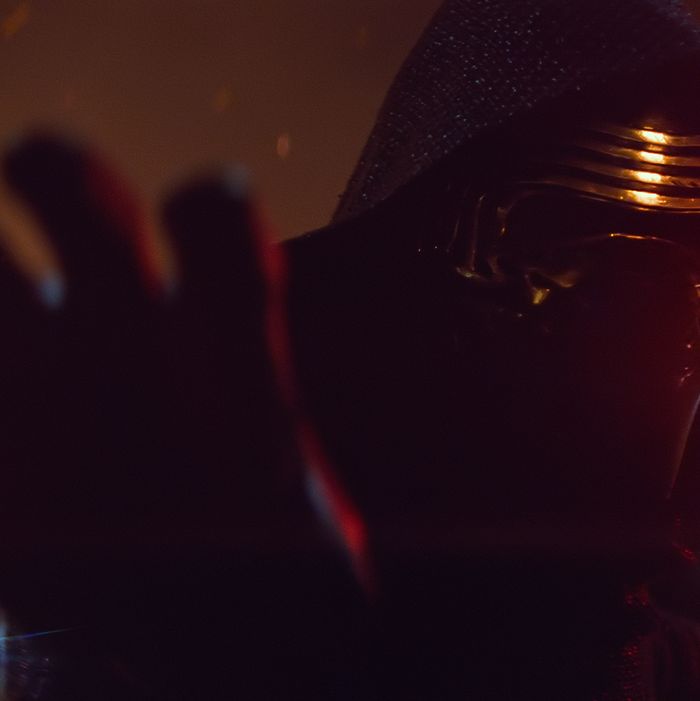 You've got to Han it to him.
After months of speculation and secrecy, it's finally official: Star Wars: The Force Awakens is the highest-opening domestic movie of all time. Exactly where that opening will land is still a little bit unclear — Disney is saying $238 million, while Deadline is suggesting it could be as high as $246 million — but regardless, J.J. Abrams's seventh entry in the Franchise That Lucas Built has obliterated Jurassic World's young record of $209 million for the most money made in the first weekend of a movie's release.
Plenty of noise will be made over the magnitude of this performance, so, before the hangover sets in and the internet falls to squabbling, I wanted to zero in on the seven most interesting numbers from The Force Awakens' record-setting weekend, most of which are drawn from Deadline's comprehensive coverage.
$84,617,303: The previous highest opening weekend for a movie released in December, courtesy of The Hobbit: An Unexpected Journey. Prior to this year, conventional wisdom dictated that the months to launch a $100 million–plus opener were between April and July, with November as an exception for YA adaptations. December was for long runs and good returns, a strategy that did help Avatar become the best-grossing film ever made. (For comparison's sake: Avatar opened to $77 million on December 18, 2009.) But The Force Awakens is the last stage in a process that's been happening for a decade now: You can release a blockbuster at any time if it's a known property. And since audiences these days rarely see unknown properties, you can release a blockbuster at any time. September and October are now the only months to have never produced a $60 million–plus opening weekend, but expect that to fall soon enough.
6: The number of movies that have grossed more than The Force Awakens has this year. Have I mentioned that it's been out for three days? I have, right?
47 percent: How much of The Force Awakens' revenue came from 3-D. Deadline writes, "When Avatar opened there were 3,100 RealD screens in the U.S./Canada; now there are 14,000 with the majority of them playing Force Awakens." Considering that Jurassic World made 65 percent of its money on its still-record $524 million international opening weekend from 3-D showings, including an insane 95 percent of revenue in China, 3-D has solidified its role as a major component of blockbuster filmmaking.
$77,000. The average per-screen gross from Imax locations, adding up to $30.1 million — $9.2 million more than Jurassic World's previous opening-weekend domestic record. It's the same story as 3-D: You don't release a tentpole anymore without a significant Imax presence.
54 percent: Portion of the total $517 million gross that came from international markets, with $279 million rolling in across 30,000 screens. That $517 million figure is just short of Jurassic World's record $524 million, but The Force Awakens becomes only the second movie ever to haul in more than $500 million worldwide in a single weekend. But this isn't quite a one-to-one comparison: Unlike Jurassic World, which brought in a healthy $99 million from China on its opening weekend, The Force Awakens has yet to open in that country. Take away that $99 million, and The Force Awakens beats Jurassic World by more than $60 million internationally. As The Wall Street Journal pointed out, though, it isn't quite that simple: Star Wars lacks much of a pull in China, and its earning power in the country is still sort of a mystery, even with Disney's all-out marketing blitz ahead of its Chinese-market release on January 9. Fortunately, Stephen Colbert is doing his part.
33 percent and 66 percent: The proportion of ticket buyers who were 18 to 24 years old (33 percent) and male (66 percent), according to the exit-polling service Postrak, cited by The Hollywood Reporter. The first number is noteworthy because it proves that The Force Awakens didn't just pull in every adult man yearning for the nostalgia of his youth: Kids who were just 5 years old when The Phantom Menace came out are just as stoked for Star Wars as their older counterparts. (Overall, 47 percent of the attendance came from moviegoers younger than 25.)
Meanwhile, that means there are a lot of women out there who have yet to buy a ticket. It would be insane to expect women to come out for The Force Awakens in the same numbers that men do, but the hugely positive response — highlighted by an A Cinemascore and 95 percent rating on Rotten Tomatoes — might help convince otherwise-unpersuaded women (and men) to patronize the biggest movie in American history.
3.1: The multiplier by which Jurassic World grew from its opening weekend through the end of its domestic run. Box Office Mojo is forecasting a 3–3.5 multiplier for The Force Awakens, which would result in a total of $714–833 million. But an even higher total isn't out of the question: We're in uncharted waters here. Avatar's domestic record is $749 million, and its foreign record is $2 billion. Those are the numbers Disney wants to hit. Is anything less a disappointment? Well, disappointment's relative. Money is not.